Brrr, it is getting cold out!
As the winter months approach, the cold weather can often be problematic for gluing applications. As a result of the cold, dry weather, poor adhesive application can occur when the adhesive's specific temperature falls below the recommended minimum.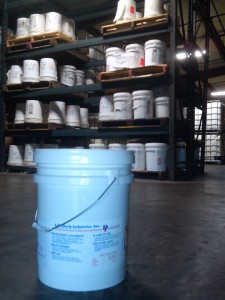 It is important to keep in mind that liquid adhesives are very sensitive to the cold weather. Since water freezes at 32 degrees Fahrenheit, your liquid adhesive, which is a water-based glue, will also freeze.
L.D. Davis takes a number of steps in order to prevent your liquid glue from freezing during transit, the most important being that we only ship our liquid adhesive products in the beginning of the week during cold months. This ensures your liquid adhesive arrives to you in a timely manner without sitting over night somewhere in a cold warehouse.
How can you tell if your liquid adhesive has frozen?
It is important to do a thorough inspection upon receipt of your liquid adhesive. If the glue has any type of crystallization on it or has a lumpy consistency, the glue is mostly likely frozen and unfortunately not useable. Another good indicator is the temperature of the casing. If the box is freezing, there is a good chance your liquid adhesive froze during transit.
Please keep in mind that not only do the liquid adhesives need to be kept in an area above their minimum temperature, but also it is essential to keep your substrates in an area that also maintains the required temperatures of the adhesives for the best adhesion properties.
For any questions or comments on adhesives in the wintertime be sure to call 1-800-883-6199. If you believe your liquid glue has frozen, call our lab at 1-800-553-3284 right away.
It's our job to ensure your liquid adhesive arrives to you on time and in excellent condition!