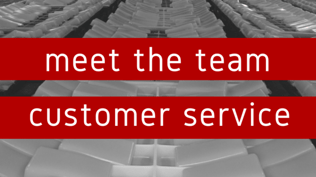 Our company has been in business for nearly a century and has built a reputation of integrity and efficiency. We are dedicated to providing customers with the highest quality adhesive products and service. So, in our new "Meet the Team" series, it made perfect sense to start with Customer Service.

Through the years, LD Davis has expanded our offerings and services to become a premier manufacturer of adhesive products and solutions. Our Customer Service team is the glue that holds everything together (pun intended). They make sure that we are able to deliver exactly what our customers are expecting. Combined the team has over 30 years with L.D. Davis. We sat down with Wendy Lizarazo, a key member of our Customer Service team, to learn more about how the team operates and what happens behind the scenes.

How long have you been with LD Davis Industries?
I have been a part of the customer service team for over 3 years.

What is your role within the Customer Service department at LD Davis?
Most of the time I am the first point of contact when a customer wants to place an order. The exciting part about my job is I not only get to interact with the customer, but also so many different departments within L. D. Davis. Often times, answers to customer questions are not simply "yes" or "no". I may have to reach out to distribution, sales, production or the technical department for answers. We are large enough to make 100's of varying types of adhesives but small enough to turn on a dime if a customer needs us to. With our quick turnarounds and short lead times, my job is to gather information such as –lead time, pricing and shipping information etc. I am responsible for communicating information to the customer.

What does a typical day look like in your department?
My days are always different and that's what I like the most. Throughout the day I receive and enter customer Purchase Orders into system, obtain lead times from scheduling, interact with the Sales team and follow up with Distribution on existing orders. Every day is unique. L.D. Davis is always looking for ways to improve the process. We are currently preparing to implement a new ERP system that will help process customer order even faster.

What do you feel is the best way to describe the customer service experience at LD Davis?
My goal, and really the whole company's goal, is to exceed our customers' expectations. Most of the time I am the point of contact that a customer interacts with the most. The challenge is that every customer requires different levels of customer service. For instance, some just want a quick email confirmation; while others have specific needs and requests to fulfill their application requirements. I take pride in helping our customers throughout the order cycle. Proactive follow-up is key to exceeding their expectations. International customers have their unique needs, attention to detail and providing proper documentation is critical.

What qualities do you think hold the Customer Service team together?
The key is that it is a team effort across the entire LD Davis organization. We all work very well together and enjoy our jobs and what we do. Sometimes we provide the solution on our own and sometimes we have to engage other departments. Flexibility is our most important quality in Customer Service and really throughout L.D. Davis because our customer needs are always changing.
Love this post? Meet our Sales & Marketing and Operations teams too!