Creating the perfect box has never been easier. Rigid boxes are an integral part of packaging and presentation for high-end electronics, jewelry, perfumes, and more. Making the perfect package is critical, as it helps promote and protect the product within.
Simplicity, Beauty, and Convenience in One Package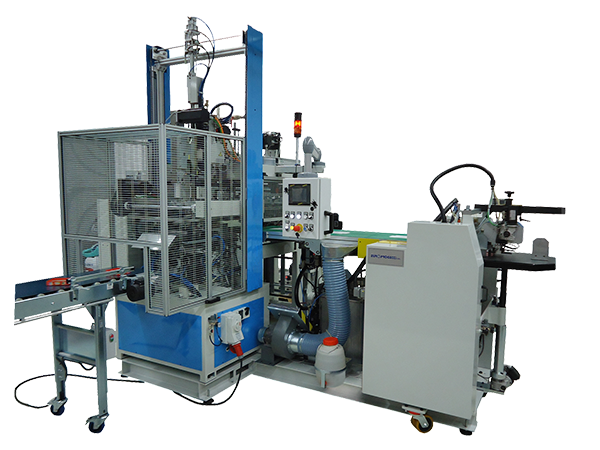 Europrogetti is the leader in creating rigid box equipment. The EP100 Line machine is one of the most compact and reliable machines for constructing small to medium-sized rigid boxes. The machine has low space requirements, making it convenient for manufacturers that have restricted space.
One of the prominent patented features of the EP100 is that it creates boxes without the need for heat-sealing tape, creating a smooth, high-quality finish. The EP100 produces some of the most aesthetically pleasing rigid boxes on the market that are sure to delight end-users. See the EP100 in action.
Operational Features
Paper-covered rigid cardboard boxes without heat-sealing tape
Boxes with sloping sides and finger notch
Inside turn-in up to 70 mm
Standard and sequential inside turn-in
Side turn-in up to 90 mm
Coating with thick paper up to 300 g/sqm
Technical Specs of the EP-100
Minimum sizes: 4,5 x 4 x H.1 cm
Maximum sizes: 35 x 25 x H.10 cm
Paper weight: from 90 up to 300 g/sqm
Cardboard thickness: from 0,8 up to 3 mm
Paper pile height: 33 cm
Cardboard pile height: 80 cm
Compressed air supply: 5-7 bar
Compressed air consumption in operation: 400 NL/min.
Electrical power: (+/-) 9,9 KW
Fully controlled by P.L.C.
Net Weight: (+/-) 3.300 Kgs
Machine dimensions: 3,8 x 2,6 x H.3,3 m (in operation)
Not only do we provide gelatin glue formulation for their rigid box machines, but LD Davis is the exclusive distributor for Europrogetti in North America. For more information contact us today!