LD Davis has been making eco-friendly, non-toxic, repulpable, recyclable, and biodegradable adhesives long before it was fashionable to be "green."
We use gelatin proteins (a non-consumable grade similar to those that go into food and pharmaceutical products like Jell-O and Gel-tabs), sugars (dry and syrup), Epsom salt, water, and glycerin. You've likely used these raw materials in your kitchen at home.
We also recycle millions of pounds of waste gelatin from nutritional and pharmaceutical manufacturers—all products designed to be easily dissolved and digested.
More About Gelatin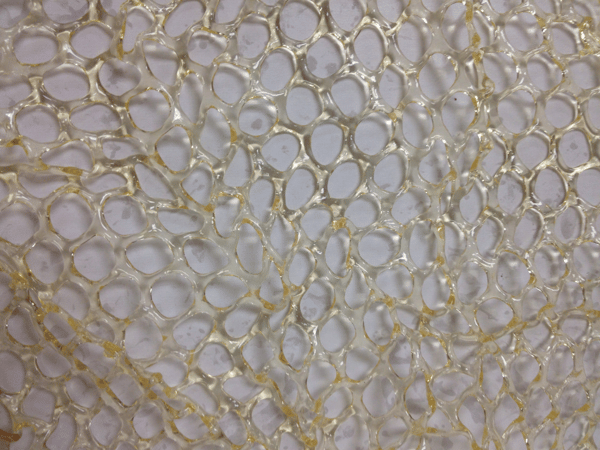 Gelatin is a protein derived from its parent protein, collagen. It is a hydrophilic colloid in an aqueous solution, nearly tasteless and odorless, vitreous and brittle as a solid, and typically faint yellow in color.
Gelatin is graded according to its strength or bloom, with a higher bloom indicating a higher grade. Gelatin is an essential part of the manufacturing process for many LD Davis solutions. In the 1970s, we actively worked to replace the primary raw material in our animal glues with recycled pharmaceutical and nutritional gelatin in the form of soft gel netting and hard ground caps.The gelatin we use today is inspected for quality as part of our 12-point quality control system for all incoming raw materials and outgoing finished products in our on-site Laboratory. During this quality control, we test for color, viscosity, and odor before it goes into production.
Why is it important to use recycled gelatin material?
Pharmaceutical and nutritional companies produce a significant amount of excess gelatin that would typically be disposed of in landfills. LD Davis takes pride in our effort to reduce waste and help the environment by recycling these materials for use in our glue products. In doing so, we gain a high-quality raw material source, and these companies successfully eliminate a waste stream.
From this practice, LD Davis has quickly become the largest purchaser of recycled gelatin in the United States. We pride ourselves on manufacturing eco-friendly, non-toxic, and recyclable glues and the use of recycled gelatin lets us continue to produce high-quality products that meet these standards.
Benefits & Features of Gelatin
Non-toxic
Recyclable
Eco-friendly
Competitively priced
Nearly tasteless and odorless
Natural Eco-Friendly Adhesives for Sustainable Packaging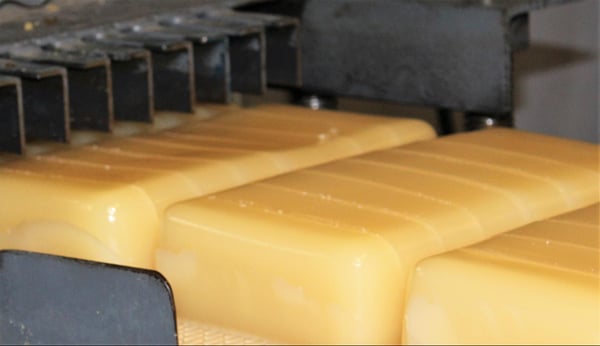 Gelatin-based natural glues, also called protein glues, are completely hydro-palpable by their composition. They are based on gelatin protein, which is derived from the hydrolysis of collagen. Collagen is a protein ingredient of animal hide, tissue, and bone.
Protein glue is composed of polyamides of alpha-amino acids. The solubility of protein-based glues in water is because five of the major constituent amino acids present in glue possess high water solubility. Protein glues are insoluble in oils, waxes, organic solvents, and absolute alcohol. They may be emulsified in water-oil or oil-water systems.
The various other raw materials used to compound our glues are from the sugar, starch, polyol, and salt families. All ingredients used to modify the adhesives are water soluble and, in most cases, are non-edible grades intended for industrial use. We also utilize edible-grade raw materials, e.g., corn syrup (glucose), sodium chloride (table salt), glycerin USP grade, etc., when required.

Benefits of Sustainable Packaging Glues
LD Davis sustainable packaging glues are great for supporting sustainability best practices in the creation and manufacturing of a variety of products, which is something that many consumers are beginning to pay attention to as they align with their favorite environmentally conscious brands in the marketplace.
Top Ways To Make Packaging More Sustainable
Non-toxic, biodegradable, recyclable, and repulpable
Safe to handle
FDA approved for indirect food contact
Reduce waste and conserves resources
Water soluble
Excellent bonding
Learn more about sustainable packaging.
---
LD Davis specializes in eco-friendly and sustainable adhesive solutions. Learn more about protein glue and all of its benefits, or contact us if you have any questions.