Gelatin is an extremely important part of L.D. Davis adhesives. Since the 1970's, L.D. Davis replaced the primary ingredient, extracted collagen from hides of bovine and porcine, with recycled pharmaceutical and nutritional gelatin in the form of soft gel netting.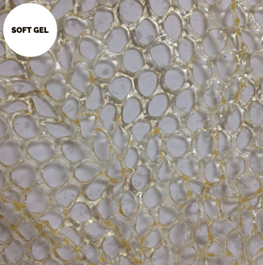 Soft gel netting is what's left over from the production of vitamin E and nutrition gel capsules. By recycling scrap gelatin material from pharmaceutical and nutritional companies, we are reducing a large waste stream that they would otherwise dispose of.
We purchase their scrap gelatin material instead of having them throw it away with the rest of their waste.
After the soft gelatin arrives in our plant in Monroe, NC, we clean it, grind it, and inspect if for quality before utilizing it in our animal glue manufacturing process.
LD Davis has a 12-point quality control system for all incoming raw materials and outgoing finished products. In our lab, we test for color, viscosity and odor before use. Scrap gelatin material is a major source of one of our most important raw materials for animal glue, which in addition to gelatin is composed of water, glycerin, corn sugar and Epsom salt.
Our ingredients guarantee our adhesive products to be 100% non-toxic, environmentally friendly, biodegradable and 100% recyclable.
Want to learn more about our gelatin products?