LD Davis protein adhesives plays a big part in paper towel and soft tissue manufacturing. For example, how do you think the layers of soft tissue stick together while still absorbing water?
LD Davis protein glue (hide glue) is the key.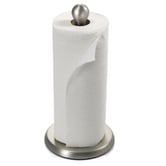 Protein Adhesive In the Manufacturing Process
Paper towel manufacturing begins with the creation of a paper pulp that is processed by use of a drying cylinder, most often called a Yankee dryer.
The dryer dries out the paper pulp on a roller, and then scraped down to the desired thickness for each sheet of paper. During the scraping process, LD Davis protein adhesive is sprayed on the roller first so that some paper pulp can never be scraped away, leaving a thin layer that will become one of the two or more layers of paper in paper towels or soft tissue.
The next step in paper towel manufacturing can follow one of two procedures: creping and embossing.
Creping with Protein Adhesive
Creping using protein adhesives gives the paper flexibility and creates open areas for water absorption - a very important feature when it comes to paper towels. A micro-fold structure is formed inside the paper layers to create these open areas.
Learn more about the next step in paper towel manufacturing: the embossing process.