Liquid hide glue is not a topic we have covered here on our blog before. Most often, when we work with hide glue it is in dry, granulated form.
Today, we are shining a light on liquid hide glue and some of the benefits it has over its dry counterpart.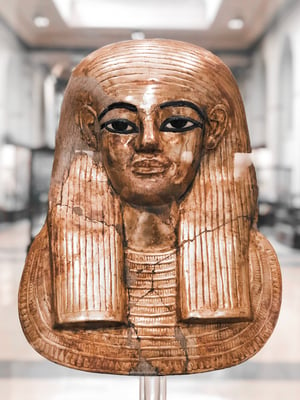 Historically, hide glue was known as animal glue.
Animal glue has existed since ancient times. The first known written procedures of making animal glue are from about 2000 BC. Between 1500–1000 BC, this unique adhesive was used for wood furnishings and mural paintings, found even on the caskets of Egyptian Pharaohs.
How Did LD Davis Get Into the Animal Glue Business?
Many of your may not know the history of how LD Davis got into the glue industry (or all of the fun fact surrounding our business).
It all started in 1926 when Louis D. Davis Sr. opened up shop in his father's home in North Philadelphia, PA. He filed for 3 patents for a stenciling product used in monument and stenciling industries (raw animal glue was one of the main ingredients).
Less than 20 years later he had to reinvent the business when he was nearly put out of business by a competitor. That is when the company began working heavily within the adhesives industry, and dehydrated animal glue for rigid box industry became our primary focus.
Lot's has changed and evolved at LD Davis in the last 90+ years. Nowadays, our specialty is gelatin-based, eco-friendly cake glues. With that said, there is still a niche market for traditional hide glue/animal glue products.
Liquid Hide Glue
Liquid hide glue is a "go to" product in the woodworking and hobby industries.
Why?
Hide glue has a very long open time. This can be especially helpful when working on intricate, and detailed projects. Unlike a hot melt glue or liquid glue, which (depending on the formula) will dry in seconds, hide glue allows you time to work before fully curing.
When it comes to wood repair or restoration, hide glue is especially beneficial due to its ability to be re-moistened with heat and water. We refer to this is the reversibility advantage of hide glue.
Benefits of Liquid Hide Glue
Liquid glue does have some advantages over hide glue in dry form. The first being that it does not require heating for application. While granulated hide glue (and gelatin based protein glue for that matter) require temperatures of approximately 140-150 degrees Fahrenheit for application, liquid hide glue is ready for use right out of the package.
Another benefit of liquid hide glue is that it does not require any additional water. Dry, granulated hide glue, on the other hand, must be mixed with hot water before application.
Liquid Hide Glue Formula Specifications
AP0336WE is a protein, liquid adhesive. It is formulated to bond wood and can be used as a base coat for wooden objects. It will produce a cracked finish when painted over with a standard acrylic hobby paint. AP0336WE is used in the hobby industry.
| | |
| --- | --- |
| USES | Wood glue / Hobby Base Coat |
| VISCOSITY | 1,000 – 2,000 cps @77°F Brookfield RVT #3 Spindle @20 rpm |
| TOTAL SOLIDS | 54 - 58% |
| OPEN TIME | Long (allow approximately 24 hours for proper curing) |
| FILM | Translucent, Semi-hard |
| COLOR | Amber |
| SHELF LIFE | 180 days |
*LD Davis has a number of hide glue formulas. If this one does not meet your project requirements, we're happy to review your project details.
---
To learn more about our liquid hide glue, reach out to the LD Davis technical team today.