One of the best ways to get the most out of your adhesive is to make sure that you are applying the appropriate amount to your substrates. What is the best way to do that? One of the easiest ways to measure the amount of adhesive on your substrates is by using a MIL depth gauge (a.k.a. wet film gauge).
In this short video our Northeast Territory Manager, Kelly Benjamin, goes into detail about the benefits of using a MIL depth gauge when applying your glue.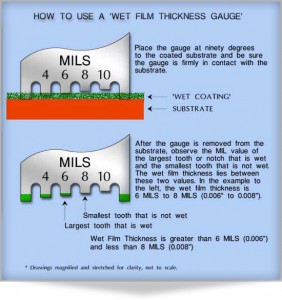 How Does It Work?
By using the MIL depth gauge on your roller or substrate immediately after the adhesive is applied, you can use the notches on the tool to measure the thickness of the coat as seen in image to the right.
By applying the appropriate amount of adhesive to your substrates, you can truly get the most out of your adhesive order, avoid warping, and save MONEY.
Want to try it out for yourself? Get a free mil depth gauge.
Image source: GEI International Inc.