If you're having issues with glue adhesion, your first thought may be to add more glue. When it comes to glue, more isn't always better.
Drawbacks of Applying Too Much Glue
Applying more glue than recommended has a number of drawbacks. Here are just a few:
Warping: Board warp happens when the board becomes bent, curled or distorted in some way. Most times board warp can be attributed to moisture. The amount of glue applied to the board may affect the the likelihood of warping. More glue will introduce more moisture which may result in more warping because the porous board will absorb the water. You want to use the least amount of glue possible to achieve your desired adhesion.
Longer Dry Time: When more glue is added to your substrates you can expect a longer glue dry time. This could have a major impact on how quickly you can run your equipment, and finish the job.
Messy Equipment: After you've made the investment in equipment, you want to make sure you run it properly. Using more glue than recommended will not only have adverse effects on your substrates, but also your equipment. You'll begin to notice extreme build up on the glue picks and rollers, and your team will have to pause production to clean the equipment a lot more often.
Increased Costs for Glue: This may seem like an obvious point, but when it comes to saving money, it's always worth mentioning. The more glue you use, the more money you'll spend. It's that simple. Over-applying glue will result in needing to order glue much more often. It will also increase the cost per piece manufactured.
Avoid Applying Too Much Glue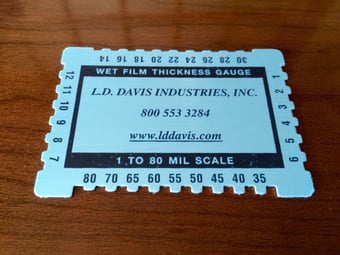 There are a few ways to keep from over-applying your glue.
One of our first recommendations is to get your hands on a mil depth (or
wet film) gauge. This is one of the easiest ways to measure the amount of glue on your substrates. By using the MIL depth gauge on your equipment roller or substrate immediately after the glue is applied, you can use the notches on the tool to measure the thickness of the glue film.
Get your hands on one of our mil depth gauges.
Another helpful resource is your equipment manufacturer. They are a wealth of knowledge and will be able to make glue film thickness recommendations based on the running parameters of your specific machine.
Lastly, do not hesitate to reach out to our technical team. Our glue experts are able to audit your glue usage, and make recommendations on how you can make improvements.