If you have used protein glue, chances are you have pondered this question: Why are there color variations in my glue?
In this post, we will uncover this 'mystery'. We will start off by confirming that color variations in glue are perfectly normal, so no need to worry!
The reason for the color variation in glue batches is attributed to the natural raw protein glue (hide glue, animal glue) used in the manufacturing process.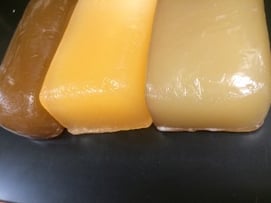 When natural products are used, there is always a chance that there will be slight color variances. We also have proprietary formulas that work with high quality gelatin materials to form the viscosity and grams strength that we are looking for in each performing cake glue product.
Normally, if the gram strength is higher, the glue will move towards a whiter shade. If the gram strength is lower, the color will be more of a tan or straw shade. For our clear cake glues, the shade difference in the final cake may vary from straw color to amber.
A shade variation will not have an impact on the performance of your protein glue.
Our final product goes through a 16 step quality control testing process. Besides the raw protein glue, other raw materials used in the manufacturing process are gelatin, sugars, Epsom salt, water and glycerin. All protein glues manufactured by LD Davis are eco-friendly, non-toxic, repulpable, biodegradable, and recyclable.