Do you struggle to get an accurate measure of the solids in your protein glues?
A refractometer is a simple tool used to measure solids, and is especially helpful for those that use protein glues. Measuring solids in your glue will ensure that you have the correct glue to water ratio.
Why is this so important?
Consistency
It's important that the glue mixture in the pot is always consistent so those working the equipment have the same outcome each time they run the line.
Imagine if a new equipment operator accidentally added more glue than is called for. Not only would this run through your glue more quickly, but it could result in consistency issues in the final glued products.
Using a refractometer will also help make sure your automatic viscometer remains in some sort of calibration.
Many machines have viscosity read outs which are very helpful until they are no longer reliable due to age and use. The refractometer reading will let you know what the relationship is between your viscometer read out and the actual solids.
Performance
Maybe your equipment is running dirty (pictured). Have you checked the glue solids yet?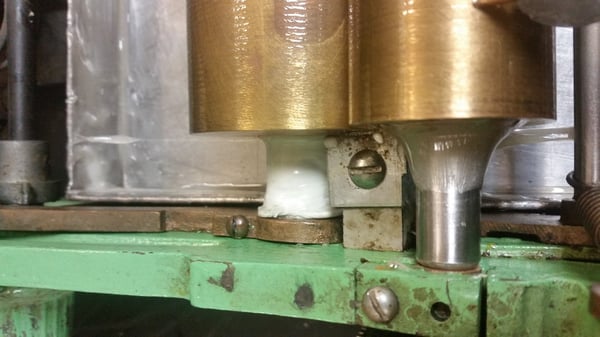 Running the glue with too much or too little water can have a huge impact on how it runs on your equipment. Cleaning messy equipment can bring your manufacturing lines to a standstill - that's never a good thing.
Another thing to keep in mind is that if your solids aren't right, the glue could begin to lose tack.
Having a refractometer on hand will help your manufacturing team keep your glue running as clean and efficiently as possible.
Getting a Refractometer
A refractometers is an extremely useful, and inexpensive, tool to have in your facility. Our technical team uses a Bellingham + Stanley Eclipse 45-05, but there are many brands available (some are even on Amazon.com).
Have more questions about using a refractometer? Reach out to our protein glue experts with your questions.