While LD Davis does not manufacture hot melt glues in-house, we distribute them for some of the largest hot melt manufacturers in the United States. Often times, prospects and customers will ask us what the benefits are of purchasing hot melt glue through a distributor instead of directly from the manufacturer. Today, we will answer that question.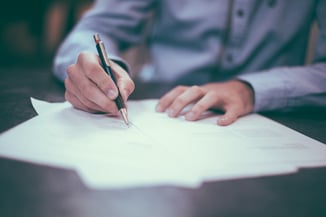 Imagine you are shopping for a new car. You probably start your search on the web - narrowing down the features, style and color you want. Once you select the car, then you visit several dealerships to test drive and get pricing. There are likely a number of dealerships that have the exact car you're looking for, but what made you sign on the dotted line and drive away in your new car?
The outstanding service.
Most of the time, car buying is a stressful experience . If you find a dealership that makes the experience less stressful, or even enjoyable, that is who earns your business.
Like buying your new car from a dealership you love, purchasing your hot melt glue through a distributor is all about the personalized customer service. When buying directly from a large manufacture, you sometimes lose the sense of partnership with your vendor.
Most large-scale glue manufacturers are, for obvious reasons, focused heavily on manufacturing. They excel in R&D, engineering and manufacturing. Distributors, on the other hand, are experts when it comes to sales and customer service. When you have a problem or issue that needs to be resolved, distributors are in a position that allows them to quickly find a solution.
Another benefit of buying from a hot melt distrubutor is that they typically have more favorable pricing available to them than the end user. Distributors normally buy product in larger volume than the end user, so the pricing through a distrbutor can be exteremely cost competitive.
As a hot melt distributor we can provide local warehousing, reduced freight costs, just-in-time delivery and immediate attention to your needs. The result is higher efficiency and ease of operation which can drive your costs down.
Contact us today to learn more about our hot melt glues!