Glue is a foundational part of many products. At LD Davis, we are fortunate to work with many companies and have built relationships with organizations like Made4Me over the years.
Since 2018, Made4Me has been purchasing hot melt adhesives from LD Davis, which helps them create custom and personalized adaptive equipment for those with special needs at no cost to the families they serve. Let's unpack some of the benefits of using hot melt adhesive and how companies use it to create unique products.
Hot Melt Adhesive for Custom Applications
Hot melt is suitable for many manufacturing applications. As a polymer-based glue, hot melt is solid at room temperature and liquefies in the presence of heat. This process creates a strong bond with minimal odor and char.
Benefits of Using Hot Melt
Creates an aggressive bond

Appears light in color

Offers clean machining

Reduced char and odor

Offers different formula variations to improve the lifespan
Due to its strength and easy application, hot melt is a stable adhesive in many industries, including packaging, graphic arts, electronics, home goods, bookbinding, construction, and automotive. Hot melt glues excel at end-of-line packaging and product assembly.
Hot melt glues are used to bond
Cardboard

Plastics

Corrugated fiberboard

Chipboard

Paperboard

Coat and non-coated stock

Boxboard

And difficult substrates
Many everyday items use hot melt adhesives, like furniture, mattresses, and upholstery. There are many companies that utilize hot melt in innovative ways. For example, Made4Me uses hot melt to construct their custom cardboard products.
About Made4Me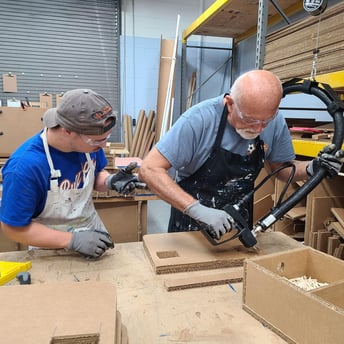 Made4Me is a non-profit organization that was founded to help children with special needs and those who care for them by building personalized items out of cardboard. These products are designed to help the parents/caregivers of special needs kids who can't find or afford the equipment their children need to do basic things in life. Made4Me partners with families and their therapists to design custom, one-of-a-kind pieces that make day-to-day life full of possibilities at no cost to the families.
Working together with families, Made4Me designs and customizes each item out of tri-wall cardboard and hot melt adhesive. Cardboard is an incredibly strong, lightweight, and versatile material that is easy to work with to create unique items. Combined with the adhesive and sealed finish, these items are easy to move yet robust enough to handle everyday use.
Popular products Made4Me creates include chairs, chair overlays, stairs, footrests, easels, and more.
Find the Right Adhesive for Custom Products
When creating products, sometimes you need to find new sources for your materials. Made4Me approached us several years ago to find an adhesive that would work best for their application. They needed a hot melt that would have a long enough open time to construct their items while still achieving a strong bond.
We worked with them to find and test a hot melt adhesive formula to meet their needs. As adhesive experts, we are always here to help companies find the right glue for the job. We are pleased to be the chosen supplier to Made4Me with the adhesives they need to support children with special needs.
If you have any questions about custom applications for hot melt, please let us know.