Maybe you were working on a project that had more difficult substrates? Or maybe you were starting to run out of glue? No matter what the reason for blending protein glues on-site, there are some drawbacks that you should keep in mind before considering this.
Drawback #1: Each Glue is Specifically Designed to Run at Certain Parameters
Have you taken a look at the technical data sheet (TDS) for the glues that you use?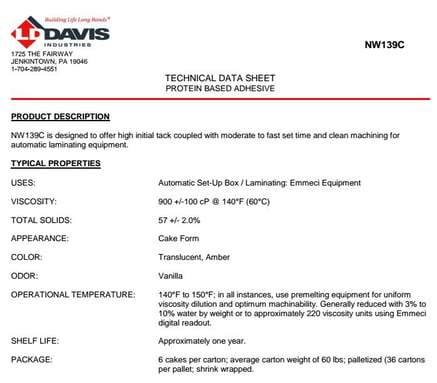 No matter which protein glue manufacturer you purchase from, you should have access to the technical specifications. If you need a copy of the TDS for your Davis product, send us a quick message. We would be happy to send you a copy.
Reviewing the TDS is extremely helpful because it details the properties of the glue formula including the product uses, viscosity, total solds, pH etc. Most glues are custom formulated for specific applications, equipment, and speeds. The snapshot TDS pictured here is for our NW139C protein glue.
When blending two or more different glues in your facility, it is not always possible to replicate what you mixed every time.
So, if two glue products are blended and there is a failure, which product is to blame? The answer is: who knows? This is a major drawback of blending glues. It is nearly impossible to properly troubleshoot the glue if different products are being blended together and an issue occurs.
Drawback #2: Unknown Optimal Running Conditions
Every glue formula has its own "sweet spot" when it comes to running conditions. Viscosity, solids, temperature and mil depth all play a major part is the product running properly.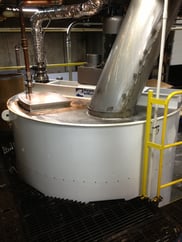 When different glue formulas are blended, pin pointing the optimal running conditions can be very difficult.
Drawback #3: Buying More Glue Than You Need
If the other drawbacks don't deter you from blending glues yourself, this one sure will.
If you're buying two different glues to blend yourself, you are probably buying A LOT more glue than you would otherwise need.
Whether you are using our glue or another manufacturers, if our technical team knows the properties of both, they can formulate a custom formula to get your desired results out of one product. Chances are, doing this will be a huge savings for you.
Speak with our technical team today about finding a custom glue formula for your application.