Eco-Friendly Adhesive Products
L.D. Davis Industries manufactures a wide variety of protein-based glues and liquid water-based glues, which are all eco-friendly, completely non-toxic and easily recyclable. Today, we'd like to feature our eco-friendly liquid water-based adhesive products, also called "white glues."
Eco-Friendly Liquid Glues
Liquid water-based glues are based on polymer emulsions that are modified with various raw materials to produce different kinds of liquid glues. These adhesives are easily customizable for tack, adhesion, open time, viscosity, and even color.
L.D. Davis eco friendly liquid glues come in many different sized containers. Customers can purchase totes, drums, and even convenient five-gallon pails. Five-gallon pails of liquid glue are convenient to handle, ship, and use and are great for companies that do not have the equipment setup to handle large drums or totes.
Liquid Glue Facts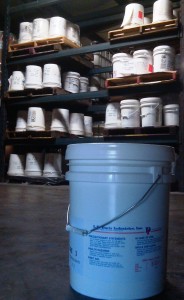 Eco-friendly liquid glues can be applied at room temperature, unlike hot melt adhesives and protein adhesives. This fact in addition to their non-toxicity makes them extremely safe to handle.
Liquid glues are used in a wide variety of applications and are commonly seen in case and carton seal, packaging, woodworking, lamination, envelopes and other assembly work. They are very easy to apply through a variety of different methods and they also dry clear on the substrates.
LD Davis strives to provide many different companies with safe, effective, and eco-friendly adhesives. Check out our website for our entire product line of environmentally friendly protein adhesives and liquid glues.