Earlier this year our Quality Specialist, Stephen Showler, celebrated 3 years with LD Davis Industries. What an accomplishment!
We sat down with Stephen to see how his time at LD Davis has been over the last 3 years.
Work hard

How did you get your start in the glue industry?
Brooks and Pat hired me through me Belize connection. I lived in Belize for 12 years as stated on my resume and it caught their eye when I posted it on Indeed; never mind I had 35 years experience as a machinist, production manager and material and shipping supervisor at a pump company.
Before working at LD Davis, what was the most unusual or interesting job you've ever had?
The most unusual job was raising earthworms for commercial sale to a wholesale distributor that represented shampoo, whole food and garden fertilizer companies.
What do you like most about working at LD Davis?
I like the fact we are treated and respected as real people here. It is as if we are one big happy family who works well together. No pressure; just do your job to the best of your ability and everything will be great!
Play hard
What is your favorite PLACE to travel to?
Germany! Whats not to love! Their "meters" of beer they sell during Oktoberfest, their soccer teams, the Black Forest and the Bundesautobahn (Autobahn)!
What is the last concert you attended?
Andrea Bocelli. I unfortunately missed out on the Rolling Stones, Foreigner and Heart. Concerts were cancelled due to COVID-19.
Favorite food?
I love all food! No favorite here because I will eat it all!
Favorite movie?
I like all the Rocky movies, Rambo and Star Wars. Of course there are many more, but the list would go on and on.
What do you like to do for fun when you're not working?
I love hanging with my family, especially my kids and grand kids. Sounds boring, but it usually involves a lot of sports, eating, drinking and just plain old goofing around. :)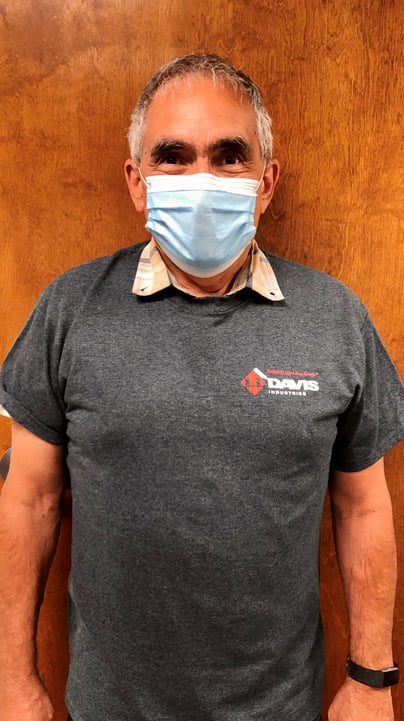 Stephen wanted everyone to know he always wears his mask while working and stays safe :)
---
Want to learn more about the people behind the scenes at LD Davis? Meet our Operations Team.