Presentation matters. Rigid boxes play a significant role in the packaging and delivery of high-end products like electronics, jewelry, candies, and perfumes. This type of box offers durability and radiates a sense of quality that not only preserves but enhances the experience of opening the final product.
Rigid boxes provide a simple and elegant packaging solution. The thickness of the chipboard and paper cover creates an ideal way to protect fragile products like tablets and cellphones while offering customizability for branding.
Benefits of Rigid Boxes
Has more durability than traditional folding cartons
Adds an extra sense of the quality to the finished product
Provides a fine, smooth outer surface for graphics and printing
Protects products and is ideal for fragile, expensive items
Offers a premium quality yet cost-effective packaging solution
The demand for packaging that protects products in transit while creating a memorable unboxing experience is growing. Equipment like the Europrogetti EP130N lets manufacturers create the perfect package while improving the efficiency of rigid box production.
Improved and Convenient Rigid Box Production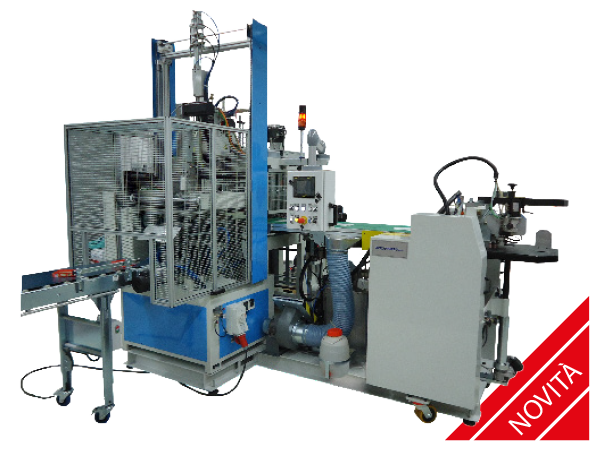 Keeping up with the demand of supplying rigid boxes can be a challenge. For those looking to increase their production rate, equipment like the EP130N can be an ideal solution. Created by one of the leaders in the rigid box equipment industry, Europrogetti, the EP130N is one of the most reliable machines for constructing small to medium-sized rigid boxes.
The EP130N improves production by eliminating the need for heat-sealing stay tape, creating a smooth paper finish on every box. The machine can produce a wide range of box types, including clamshell, slipcase, and boxes with inclined walls. The EP130N makes some of the most visually appealing and long-lasting rigid boxes.
Take a look at this video to See how the EP130N operates.
Below are some of the specifications that really make the EP130N standout. Overall, it offers a cost-effective solution for creating rigid boxes.
Operational Features
Folding boxes (CD – Clamshell – Monocuvette)
"T" shaped slipcases
Creates paper-covered rigid cardboard boxes without heat-sealing tape
Boxes with sloping sides and finger notch
Inside turn-in up to 70 mm
Standard and sequential inside turn-in
Side turn-in up to 90 mm
Coating with thick paper up to 300 g/sqm
Technical Specs of the EP130N
Minimum sizes: 4.5 x 4 x H 1.2 cm
Maximum sizes: 35 x 25 x H 8 cm or 32 x 16 x H 13 cm
Paper weight: from 90 up to 300 g/mq
Cardboard thickness: from 0,8 up to 3 mm
Paper pile height: 33 cm
Cardboard pile height: 80 cm
Compressed air supply: 5-7 bar
Compressed air consumption in operation: 400 NL/min.
Electrical Power: (+/-) 9,9 KW
Fully controlled by P.L.C
Net Weight: (+/-) 3.300 Kg
Machine dimensions: 3,8 x 2,6 x H.3,59 m (in operation)
Supplying and assisting Rigid Box Manufacturers
LD Davis recently partnered with Europrogetti to provide rigid box manufacturers with top-of-the-line equipment and support. As an exclusive distributor for Europrogetti in North America, manufacturers can order rigid box equipment from us and receive assistance troubleshooting glue applications.
If you are interested in learning more about rigid box production or applications using the EP130N, we can help. Contact us today for more information.