We've seen a lot of news surrounding the topic of paper straws over the last couple of years. Companies like Starbucks, Hyatt, and American Airlines are working to move away from single-use plastic straws completely.
As companies work diligently to make environmentally conscious choices, paper straws are definitely going to become a part of everyday life.Over the last year our team has supplied eco-friendly, compostable glue to a number of paper straw manufacturers. It got us thinking, how many people really know how paper straws are made?
It really is a fascinating process!
How Paper Straws are Made
Paper straw manufacturing is similar in many ways to other tube winding processes. You have likely come across tube winding a number of times: paper towel roles, shipping tubes, food packaging tubes etc. Paper straws are similar to that, just on a bit of a smaller scale.
Learn More About Tube Winding Glue
During the paper straw manufacturing process, several thin reels of paper are run through a glue bath. These tacky reels are then wound together into a long paper cylinder. Those long cylinder tubes are then cut to size, packaged and shipped.
This is great behind-the-scenes video shared by the Vancouver Sun. Here you'll see Waterhorse Paper Straws' manufacturing process in action.
Paper straws are typically made using food grade paper, inks and other raw materials. They are designed to last through end of use, but compostable easily once recycled or disposed of.
Benefits of Using Paper Straws
LD Davis has been a promoter of using plastic-free, sustainable glues for many decades. By developing eco-friendly glues for manufacturing, we are able to help businesses keep up with customer demands for greener packaging and products while reducing their carbon footprint.
There a number of reasons that paper straws are growing in popularity. Here are four reasons to love paper straws: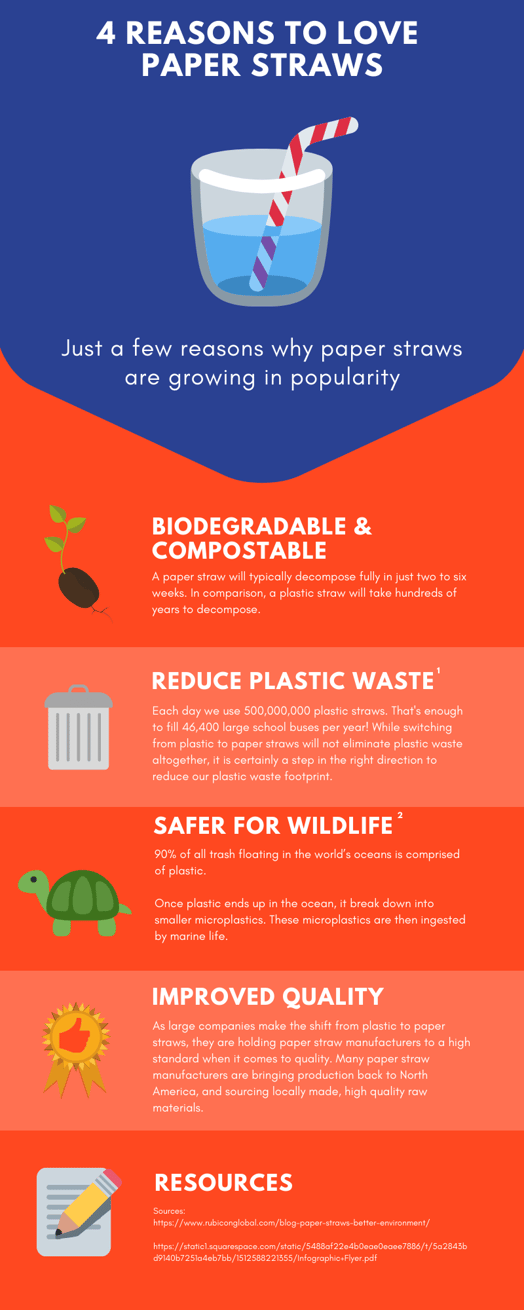 ---
What are your thoughts on paper straws? Are you on-board with the movement, or will it take some time to get used to the switch? Comment below and let us know!
To learn more about the adhesives used in the paper straw manufacturing process, reach out to our experts today!