In order for your glue to perform properly, it must be able to penetrate (or "wet") your substrates. Some substrates are more difficult to penetrate than others. This is a result of varying surface energies.
Our lab team regularly runs dyne tests on our prospects and customers substrates to determine if our glues will be a good fit for their projects. If you would like to purchase dyne pens and run tests in your own facility, here are a few steps on how to conduct the dyne level test:
Make sure your dyne pens are not contaminated or outdated.
Make sure your dyne pens are stored at room temperature.
Before testing, make sure the substrate is clean and free from damage.
Remove the pen cap and make sure that the pen tip is saturated.
With light pressure, draw three parallel lines with the dyne pen onto the test area of your substrate. Disregard your first and second reading, as the tip of the pen may be contaminated with old solution. These lines will clear the pen. Evaluate only the reading from your third line.
Keep note of the time between when the solution is applied to the substrate until when the solution beads up or begins to shrink (stays wet). If the solution does not bead up after 3 seconds, repeat the test with the next highest dyne pen. If the solution breaks into droplet in less than 3 seconds, repeat test with next lowest dyne pen. If the ink holds for one to three seconds before losing its integrity, the dyne level of the marker closely matches that of the sample.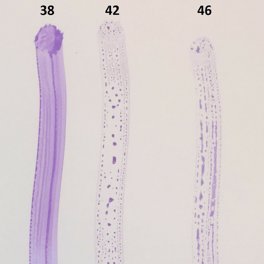 To the left is an example of dyne testing performed in our lab on a white coated paper substrate.
No beading occurred on this substrate using a number 38 dyne pen. Using a number 42 dyne pen, a small amount of beading is evident. Complete beading resulted within two seconds using a number 46 dyne pen. The dyne level of this material is 38-41.
Our lab used dyne pens from ACCU DYNE for this test.
"Surface energy is critically important to many converting operations. Unfortunately, it is not the sole determinant of product suitability. Other factors, such as surface topography, coating rheology, and chemical incompatibility, must also be considered. This is why broad-based communications with vendors and customers is so important. But at least by systematically measuring substrate surface energy, you will have a sound starting point from which to resolve other problems which may arise." (ACCU DYNE)
Our technical team is always happy to assist with running tests like this for your project. Reach out to them to learn more.