Making incremental but impactful changes is vital for the evolution of any company. Reducing costs and energy usage are crucial concerns as manufacturers try to lower their environmental impact without impacting quality.
Recently, LD Davis has made some improvements to our facility to increase our efficiency, quality, and safety. As one of the leading producers of eco-friendly, gelatin-based adhesives, we want to highlight some of the additional updates we've made to our facility and processes.
These solutions have benefited us, and we want to be transparent about methods that work to improve production.
Installing Industrial Fans in the Warehouse
Warehousing may seem simple in premise, but keeping everything running smoothly can be challenging. One of the best ways to improve day-to-day functions at any warehouse is improved ventilation.
Increasing airflow can significantly boost comfort, energy consumption, and efficiency within warehouses. We worked with Rite-Hite to acquire high-volume, low-speed (HVLS) fans for our facility in Monroe, NC, specifically the 24' Revolution Fan & (3) 8' Direct Drive 3-Blade Fan.
Employee Health
High temperatures in the summer months can put employees at risk for heat-related illnesses. A well-ventilated space significantly reduces heat stress and improves working conditions. HVLS fans generate a cooling sensation of up to 7 degrees by taking the air that's present and creating a breeze that starts the evaporative cooling on moist skin. Rite Hite's fans can generate this cooling effect up 85' from the center of the fan. The unique Propellair Blade design provides and even distribution of air.
Energy Consumption
HVLS fans help evenly distribute warm or cool air, putting less stress on heating and cooling systems even if you already have a high-quality HVAC system. Rite Hite fans can destratify the air in the room allowing you to reach your desired room temperature faster and helping to maintain that temperature.
Instead of pumping hot or cold air into every room, fans help regulate temperature and reduce energy consumption by disbursing hot air that accumulates near the ceiling. Typical energy savings are around 20-30% of yearly energy costs.
Temperature-Control
A well-ventilated space is easier to keep at a consistent temperature. HLVS fans move still air, helping to prevent product corrosion or spoilage. This is ideal for warehouses with temperature-controlled products that might not need refrigeration but are still sensitive to changing temperatures.
Updating Gelatin Adhesive Cutting Equipment
Consistency is key when it comes to quality control. As new technological advancements come onto the market, it is critical to evaluate your production line to pinpoint what equipment needs to be augmented or replaced.
For us, we discovered our cutter was outdated when we stood back and evaluated the efficiency of our production line. Our gelatin glue is cut into solid, square blocks or "cakes" before packaging and shipping. This process was becoming outdated, so we acquired a new cutter for our facility.
The new cutter offers quicker, more precise slices, creating a cake of glue that is approximately 10 lbs every time. The new equipment also enhances safety by reducing operator interaction with moving parts.
Reducing Box Sizes for Adhesive Shipments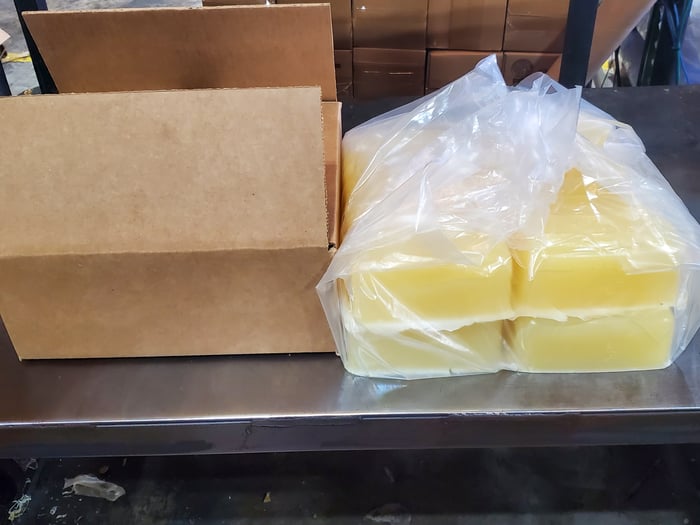 To reduce shipping costs and improve our standards, we are shrinking the size of our boxes. While our packages may look slightly different, it's still the same 10 lbs gelatin glue cakes inside.
Rising shipping costs are a challenge for many companies, and using the correct size box can help lower costs. Using a container that is just slightly bigger than the item itself is the best way to send it to its destination.
At LD Davis, we reduced our packages. The old container was 60 lbs, and our new box can hold 40 lbs. This reduction in size and weight makes it more manageable to ship and load on and off pallets.
Switching to LED Lighting
We migrated to using all LED lighting in our warehouse. Not only is our facility brighter, but the new bulbs have a much lower energy consumption than incandescent light bulbs. While it might sound a little strange, we're looking forward to seeing our upcoming bills to see the full impact of changing our lighting.
LEDs have an estimated energy efficiency of 80% to 90% compared to traditional lighting. Also, about 80% of the energy used is converted into light, while only 20% is lost and converted to heat. Since LEDs last longer, they also require less maintenance.
Continuing Innovations at LD Davis
We're proud of the updates and progress we have made and are always looking for ways to improve our facility, processes, and products. If you have questions about these changes, our team is here to help. Contact us.