One of the most efficient and accurate methods for checking brix solids of L.D. Davis protein glue is to use a refractometer.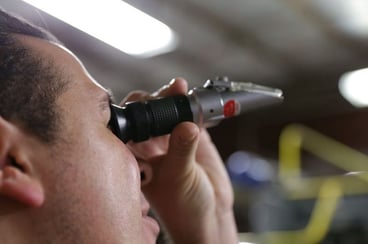 A refractometer is a simple handheld tool used to measure solids, and is especially helpful for those that use protein glues. Measuring solids in your glue will ensure that you have the correct glue to water ratio.
Having the correct ratio of glue to water is extremely important - click here to find out why.
To use the refractometer, carefully collect a sample of the glue and apply the sample to the "screen" on the tool. Hold the refractometer into the light, and look into it - kind of like you would with a kaleidoscope. This will show you the current refracted brix solids in the protein glue.
The recommended glue solids for L.D. Davis Emmeci glues is 50-52%.