Do you remember the excitement you felt as a kid when you got the chance to go to work with one of your parents for "Take Your Child To Work" day? On November 22, we had a special guest visit our Monroe facility that helped to bring that excitement back to life for our team. Halee, our Office Manager, brought her daughter Jaycee to the office for a "LD Davis Internship" day.
Jaycee got the chance to take a look behind the scenes to see what mom, and the rest of the team, does all day (and of course there was a lot of fun and food involved).
Jaycee's "Internship Day" Schedule
8:00 am - Arrive and meet/greet team.
8:45 am - Attend staff and scheduling meeting. Go over what will ship this week, and next. What orders came in yesterday?
9:15 am. Inventory check on our Christmas decor. Perform analysis and make recommendations at lunch break. Sufficient decorations? Sufficient power supply? Timeline for Christmas tree acquisition?
10:30 am. You will be our Senior Executive Vice President of Food for the day. Working with Brooks, and like many Jedi before you, explore the ways of Internet food ordering.
12:00 pm – 1:00 pm - Lunch break!
Bonus objective – see Willis (can you really out-pizza Willis?)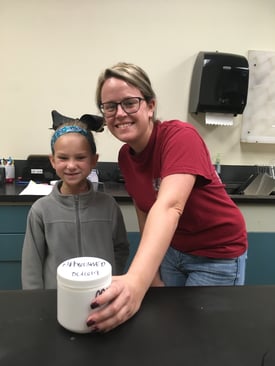 1:00 pm - Chemistry lesson with Amber in the LD Davis lab. Learning objective: viscosity. What does viscosity mean? What is viscosity of Water? What is viscosity of Ketchup? What is viscosity of Peanut Butter?
3:00 pm - Mail retrieval and review – adult supervision needed. Mom will help with this.
Miscellaneous Tasks for the Day
+ Sign all artwork you created for us.
+ Keep an eye on coffee machine. We are always low on water. My theory is that there is some atmospheric disturbance OR someone isn't refilling. Catch the culprit or prove our meteorology theory and it will be worth your investigative efforts.
+ Practice and learn the ways of the "boop-boop-boop" (the walkie-talkies used to communicate with the Plant team).
+ Contact Stephen in the Plant to see if there are Fed Ex/UPS packages that need to be dropped off.
---
We hope Jaycee had as much fun visiting us as we had having her here! We're still wondering, did she really "out-pizza" Willis? I guess we'll never know.