At this time of year, we pause to give thanks. We took a moment to speak with some of our team to see what they are thankful for here at LD Davis. Check out what they had to say.

"I'm thankful for a country that has always found approaches to overcome our differences and continues to make America the beacon of hope and opportunity it has always been" - Tripp, President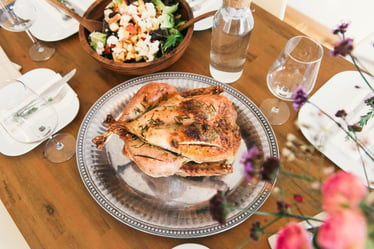 "I am thankful for all of our hardworking personnel in the plant. They are here at the crack of dawn and work hard throughout the day and are happy to do so. They are polite and eager to be helpful in any way necessary. They are the real superstars of LD Davis" - Halee, Supply Chain Coordinator
"I'm thankful for the opportunity to travel, I see a lot of cities and meet with great people" -Kelly, Territory Manager
"I'm thankful for getting to be one of the lucky few that gets to spend their Thanksgiving holiday in the woods hunting Whitetail" -Patrick, Assistant Plant Manager
"I'm thankful I have my health and a wonderful family" - Bill, Territory Manager
"I am thankful for the faith filled love of my family and friends" - Wendy, Order Entry
"I'm thankful for the small, tight knit work environment" - Kurt, VP of Finance
"I am thankful for my family. A great job and great people to work with!" -Jeff, Territory Manager
"I'm thankful for our fast internet at work…I am ready for Cyber Monday" - Stacey, VP or Sales and Marketing
"I am thankful that God has blessed me with a beautiful wife and loving family. I am also thankful for this great opportunity at LD Davis Industries. I am thankful that my health has remained good over the years. I am thankful for America and everything that we have, as Americans, that a lot of other nations do not have. Last, but definitely not least, I am thankful for Snoops and Scrappy, my lab mixes that bring me so much joy every day" -Willis, Applications & Formulations Chemist
"I'm thankful for extra time off around the holidays to spend quality time with my family" - Maria, Online Marketing Manager
"It's not easy to start with a new company but I am most thankful for feeling so welcome!" - Shellie, Accounting
---
We have a lot to be thankful for this Thanksgiving, but most of all, we are thankful for you - our customers. Without your business and support over the last 90 years, LD Davis would not be the company that it is today. Thank you!
Wishing you a warm and happy Thanksgiving holiday!