LD Davis Green Advantage
LD Davis has been manufacturing eco-friendly adhesives for over eight decades. All of the adhesive products we manufacture are completely non-toxic, recyclable, and biodegradable. We like to do our part to help the environment. In fact, we like to call it the LD Davis Green Advantage:
"The components of protein-based gelatin adhesive include gelatin proteins, usually extracted from edible gelatin which is composed of pharmaceutical scraps of both hard cap and soft gel pill capsules or hides and bones of pigs and cattle. Animal glue production is a green process not only because it recycles nutritional scrap, but it is also made up of Epsom salts, water, sugar, and glycerin, which are all water-soluble components. The sugars used in protein adhesive generally come from corn, which is a renewable resource.
The combination of these different components produces a green, effective, and biodegradable adhesive that is useful for a wide variety of different applications including:
Bookbinding
Rigid boxes
Food packaging
Board games
Bird feeders
Adhesive and Packaging Sustainability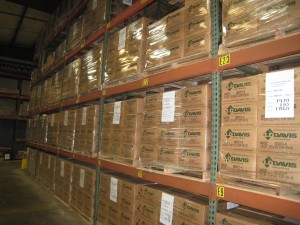 LD Davis adhesives are used in a wide variety of industries, one of which is the packaging industry. Packaging companies and the industry as a whole are transitioning to greener and more sustainable packaging practices. Our environmentally friendly adhesives can play a large part in the sustainability rating of a product's packaging:
"According to a recent article in "Food and Beverage Packaging," the packaging industry as a whole is farther ahead of the adhesives industry in terms of environmental matters. However, it brings up an important point about the role adhesives play in packaging sustainability.
A main point of the article is that packaging could be more sustainable if adhesives were considered earlier in the manufacturing process and not as an afterthought. "An oft- heard phrase is 'adhesives are the last thing considered when designing a package and are used in such small per-package quantities that they are often ignored.' This position is changing. The new awareness is being driven by the same drivers that affect packaging overall." Adhesives make up such a small part of a package that they are often left until the end of the design and manufacturing process and little thought is put into their impact on the environment."
Recycling Gelatin Waste
In addition to manufacturing quality animal glue and liquid glue that is recyclable and sustainable, LD Davis reduces a large waste stream from pharmaceutical and nutritional companies by recycling their scrap hard gelatin and soft gelatin for use in our adhesive products:
"One of the components of the L.D. Davis Green Advantage is the company's recycling of pharmaceutical waste. The gelatin we use is what's left over in a sheet of gelatin after a soft gel capsule, like a Vitamin E capsule, has been manufactured. We also recycle scrap hard capsule gelatin. Both the hard cap and soft gel netting are ground and cleaned before use in our adhesive, which is non-toxic and biodegradable.
L.D. Davis purchases this scrap material from pharmaceutical and nutritional companies, and then formulates many protein adhesive products that are widely used every day. We are the largest purchaser of recycled pharmaceutical gelatin in the United States. We go through a lot of scrap gelatin. We help reduce pharmaceutical companies' waste stream by utilizing their waste gelatin, and they help us by providing us with the necessary materials we need to manufacture our gelatin adhesives. Everybody wins!"
LD Davis produces sustainable adhesives in a number of ways.