Animal glue in the Great Depression
In its early years, LD Davis Industries thrived during the Great Depression. Beginning as a stenciling product company, Louis D. Davis Sr. grew the business during the 1930's by focusing more on manufacturing his own animal glue, a major component in his current stenciling product.
The company did well enough to move to its third location in 1936, to our original
animal glue manufacturing plant in Bristol, PA.
Big Changes
In 1939, a competitor in the stenciling industry developed a new stenciling material that could have put LD Davis out of business very quickly. Instead of accepting defeat, the company focused on manufacturing and selling their animal glue rather than to try and save its place in the stenciling industry.
Through smart marketing and hard work, L.D. Davis sold their animal glue to local rigid box makers. Animal glue sales went well, and the company quickly expanded to serve other areas of the United States.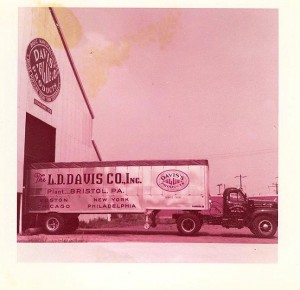 Animal glue manufacturing plant in Bristol, PA
25 years in Business
L.D. Davis manufactured animal glue for different industries and right before the company's 25th anniversary in 1951, L.D. Davis developed a custom animal glue for use as bookbinding glue and has continued to be a major manufacturer and supplier of bookbinding glue in the industry. Our cake glue can be adjusted for difference applications and today, we manufacture over 100 varieties of animal glue, both in cake and raw form.
Learn more about LD Davis hide glue in our product spotlight feature.