As the largest protein glue manufacturer in the United States, we work with a variety of glue application machines everyday. Today, we spotlight the Colonel AG Gluer, a hot protein glue machine manufactured by The Gluefast Company.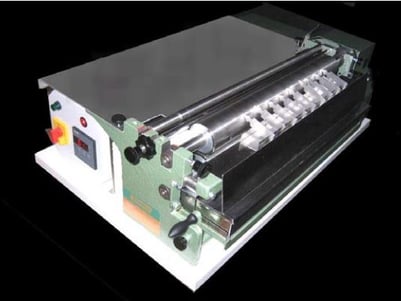 The Colonel AG Gluer is a protein glue application machine primarily used to manufacture hard cover books (case making).
To use the machine, the operator feeds the cover into the gluer. The glue film thickness can be easily adjusted with the two knobs on either side of the machine. Keep your mil depth gauge handy to make sure you are not applying more glue than necessary to your cover.
The standard features on the machine present the cover glued-side down. The optional reversible pick-off point assembly allows the operator to feed the cover into the gluer and have it come back to to them with the glued side up. The glued-side-up cover is then placed onto the Alignment Table, which makes it easy to place the binder board onto the glued cover.
Roller widths are available in 20", 26", 32", 36" and 42".
Colonel AG Gluer Features
+ Direct heated glue tray with digital temperature control
+ Stainless steel rollers, glue tray and pick-off points
+ Variable speed control
+ Teflon bushings
+ Shaft scrapers
+ 220/230 voltage, 50/60 Hz
+ Completely Covered Glue Tray
+ Automatic Watering Mechanism to keep glue fresh and at proper solids content
Colonel AG Gluer In Action

To learn more about this and other glue application equipment from the Gluefast Company, visit their website.