After getting very useful feedback from our protein glue customers, we have made improvements to our cake glue scoring (cutting).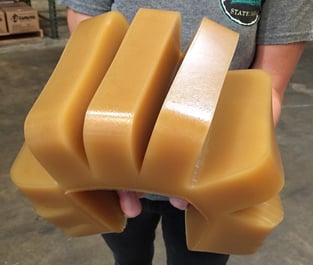 Through the years we have visited many manufacturing plants that use protein glue. The feedback that we received from the glue users and equipment operators was that protein glue cakes are inherently difficult to pull apart or cut into smaller chunks.
We heard your feedback, and have been working the last several months on an improved scoring method.
All of our cake glues that are packed in cartons will now be scored into sections that are much easier to pull apart, without the need for cutting with a knife or blade.
Smaller chunks of glue will not only melt faster, but this scoring will make our protein glue a much safer choice for equipment operators.
In addition, since our glue cakes are not shipped in pillow packs, there will be a lot less plastic waste for your facility to dispose of.
If you are currently using our protein glue products and your glue cakes are scored, they will be switched over to our new scoring method. The product and formula are exactly the same as before, the only change will be the cutting.
There is no additional cost for this improved scoring.
Comment below and let us know what you think about the new scoring!