From its beginnings over nine decades ago, LD Davis Industries has manufactured quality animal hide glue for the book binding, packaging, and graphic arts industries. In 1980, LD Davis Industries purchased a company called Adhesive Products of Georgia, which enable the company to begin manufacturing liquid adhesives to add to our line of non-toxic, eco-friendly glues.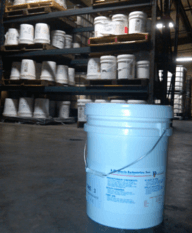 Initially, all animal glue production was based out of a plant in Bristol, Pennsylvania and then completely moved to a new, state-of-the-art adhesive manufacturing facility built in Monroe, North Carolina.
After the acquisition of Adhesive Products of Georgia, all liquid adhesives were made in that facility in Georgia, but were eventually moved to the main adhesive manufacturing plant in Monroe, North Carolina. Manufacturing liquid adhesives and animal glue under one roof that also contains a full adhesive lab and technical department that have a wealth of knowledge about liquid adhesives has been a great success for the company.

Properties of Liquid Adhesives
Liquid adhesives are also referred to as white glues, water-based adhesives and sometimes, cold glues because they can be applied at room temperature. Liquid adhesives do not have to be heated prior to use like some other types of glue. Liquid adhesives are often used in case and carton sealing, packaging, wood bonding, lamination, envelopes and other applications.
Liquid adhesives are always safe to handle due to the lack of heat and also because of its composition. Liquid adhesives, just like all LD Davis manufactured adhesives, are:
Non-toxic
Eco-Friendly
Biodegradable
Liquid Adhesives are safe to handle.
Some other advantages to using liquid adhesive for your application include ease of use and cleanup, liquid adhesives dry clear, and are typically solvent-free.