Liquid glues, sometimes referred to as white glues, are water-based formulas that are used in a wide variety of applications and are popular because they are eco-friendly, non-toxic, easily recyclable and safe to handle. But did you know that liquid glues can be dyed colors other than white?
Liquid water-based glues have many uses, including packaging, case and carton sealing, wood bonding, laminating, rigid box manufacturing, bookbinding, graphic arts, food and beverage packaging and general assembly applications. As you can imagine, we run into some pretty unique applications that require custom glue solutions.
Our technical team is experienced in customizing glue formulas to meet the needs of even the most unique applications. This includes adding dye to glue formulas to tint it to a variety of different colors.
You may be wondering, why would someone need a glue of a different color? Well, there are a few reasons.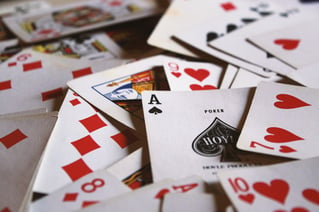 Some applications actually require a dyed glue. For instance, a black glue (also known as "block light" or "block out" glue) is often used in the manufacturing of playing cards. This black glue helps to keep light from shining through the paper, which is pretty important for any fair game of cards.
A number of our customers use black glue to keep light from shining through their finished product.
Some other applications don't require a dyed glue, but a dyed glue is used for various reasons. Some of our customers use a dyed formula to make glue application easier for their production team. Others use dyed glue to make their end-product standout against competitors.
Whatever the reason for using dyed glue, we have a variety of formulas (and colors) to meet your needs. Most common dye colors include: black, red, blue, green, yellow, and brown.*
*Please note, as these dyes are added to a "white glue" formula, the shade may vary slightly from batch to batch.