LD Davis is one piece of the puzzle in jigsaw puzzle manufacturing; you guessed it, that piece is our adhesive.
Below are the top questions we get asked about puzzle production, along with the additional benefits of jigsaw puzzles.
What Adhesive is Used for Producing Puzzles?
There isn't a one-all for glue when it comes to puzzle manufacturers. Selecting a suitable adhesive for your application depends on the equipment, production speed, and type of board and paper used.
Many manufacturers use a variant of our gelatin glue or, in some cases, liquid glue due to their fast drying times. When choosing an adhesive for puzzle-making, also keep in mind the following aspects:
Does the glue dry clear?
Does the glue dry quickly?
Will the adhesive bleed through the puzzle pieces?
When the glue dries, does it warp the board?
Discolored or warped puzzle pieces can cause many issues for end-users. No one wants to put together a bent puzzle that won't easily snap together.
Testing how your substrates and adhesives interact with each other is critical. For manufacturers that need assistance with glue-up tests or different types of adhesive testing, our team can help.
How are Jigsaw Puzzles Manufactured?
Jigsaw puzzles are created through a process known as die-cutting. Standard puzzles are made with a paper graphic and chipboard as a stiff background with adhesive holding the two together.
Below is a quick rundown of the jigsaw puzzle making process:
First, the artwork is chosen and printed onto paper. The standard process used to print puzzles is lithography.
Next, the printed pictures adhere to chipboard through a lamination process. The puzzles are set aside to dry for several days before going into a die-cutter.
After going through the die-cutter, the puzzle pieces are boxed and ready to ship.
Why Are Jigsaw Puzzles Popular Again?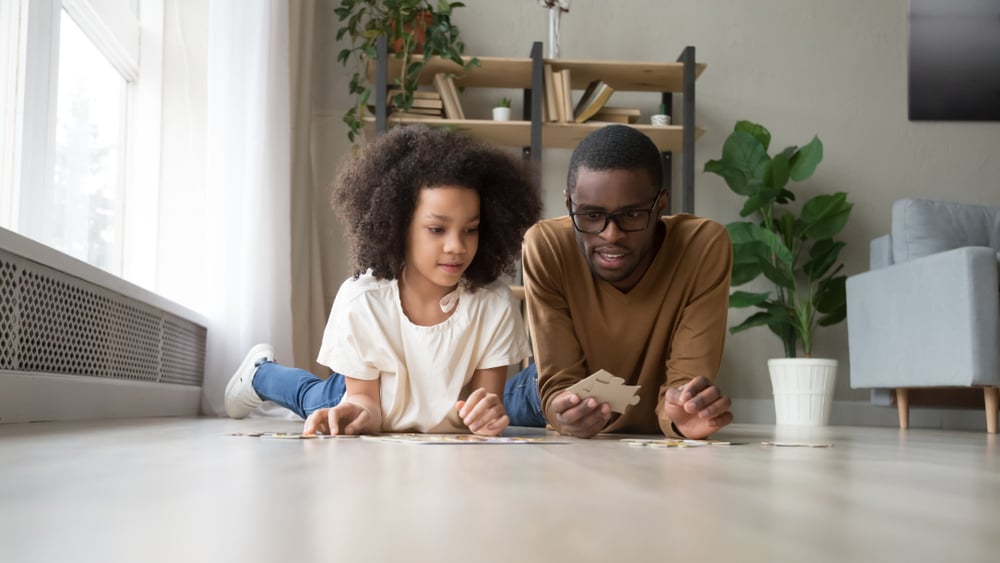 Puzzles made a huge return in 2020. When the pandemic started and the first shelter-in-place orders were issued, many manufacturers saw a rise in demand for puzzles. Sales for puzzles were up 300% over the same period last year.
The appeal of puzzles in the pandemic isn't difficult to piece together. Putting puzzles together is meditative, relaxing, and perfectly made for staying indoors.
It is a tactical activity that captures attention, making it easier to unplug and be in the moment. Puzzles are great to do by yourself or with family members to unwind. You can have the radio, TV, or music on for background noise, but putting a puzzle together while on your phone is difficult.
Also, it's well known that puzzles are beneficial for brain health.
Additional Benefits of Puzzles
Improves short-term memory and problem-solving skills
Can help boost creativity and productivity
Increases cognition and visual-spatial reasoning
Improving JigSaw Manufacturing
Many manufacturers are reviewing their production line processes to keep up with the demand for new jigsaw puzzles. Adhesive can be challenging to work with, as many variables like temperature, application speed, and surface material need to be considered.
Talk to our team if you need assistance finding the right glue for puzzle manufacturing.