LD Davis Industries: The Book Binding Glue Standard
In the beginning, LD Davis Industries manufactured an adhesive product for the stenciling industry. However, as a smart and innovative company must, we adapted to the changing business climate when necessary and altered our product to serve the box making and book binding industries. Book binding glue became, and is to this day, one of LD Davis' premier adhesive products.
Book Binding Glue
Binderies use different types of book binding glue depending on the type of book and the binding process used. LD Davis book binding glue is a type of animal glue or protein glue, which must be heated prior to use. This type of glue is different from a hot melt adhesive. Book binding glue is made up of the following raw materials:
Water
Corn sugar
Gelatin
Glycerin
Epsom Salts
Eco-Friendly Book Binding Glue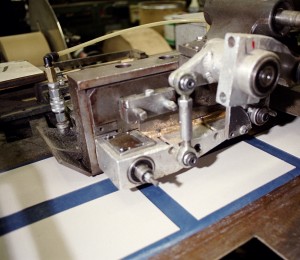 Once the raw materials are mixed together in a heated kettle, the animal glue material is poured into large trays to try, which creates cakes of about 10 pounds each. These cakes are then packed in boxes and sent to our customers, who melt the cakes down before use.
Due to its ingredients, book binding glue is completely non-toxic, safe for the environment, recyclable and biodegradable. We like to call our book binding glue an "eco adhesive."
Whether they're hard cover, paperback, or specialty bound, LD Davis Industries can supply the book binding glue to get the job done. Our book binding glue has been a standard in the industry for decades and will continue to be as long as books are printed!
Do us a favor: put down the E-Reader, Kindle, or iPad…pick up a book…and check out the quality book binding glue securing it together while you're at it!