Imagine you're working with your team to do some cleaning in your facility and you come across an old box of cake glue that you forgot existed. It's been sitting there for well over a year. You know this old stuff must be expired. Now you're wondering how to get rid of it.
Does this situation sound familiar?
In a perfect world, you would use every last pound of glue. Realistically, you may find yourself in a situation where you have to dispose old glue. Here is how you can do it.
Properly Disposing Industrial Glue
First and foremost we want to mention: all of our raw materials and their federally mandated material safety data sheets, instruct the glue user to dispose of any excess material properly following local laws and ordinances. You should always check with your local ordinance to confirm that you are properly disposing your glue. To get a copy of your glue's safety data sheet (SDS), reach out to us.
Most times you will find that animal glue and hot melts are non-hazardous solids that can be added to the solid waste stream without any issues. Small amounts of liquid glue can be added to absorbent granules, like Oil-Dri, and then disposed of into the solid waste stream. Drums and totes of liquid will need to be picked up by a waste handling company.
What About the Packaging?
You have disposed of the glue but what about the empty packaging?
All LD Davis poly drums and totes carry a "CALL TO HAVE PICKED UP" number on their labels.
If you call this number, the service will arrange to have an LTL carrier come to pick up the empty container for you. There is no cost to you as long as the containers are reusable or recyclable. Another option for disposal of the packaging would be to recycle them locally. Metal drums must be disposed of according to local ordinance. Many times, you will be required to recycle these.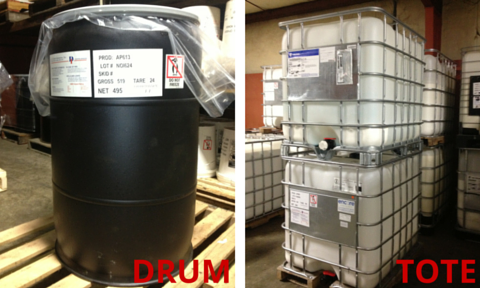 ---
It's very important to know how to properly dispose old glue. If you have any questions regarding proper disposal, contact us!