Before any protein glues (animal glue) leave our manufacturing facility, a lot of technical work is done behind the scenes. Not only do we test each and every raw material used in the manufacturing process, but we test the glues after they are in cake form and ready for use.
Some tests that we perform in our lab include: dirt tests, viscosity tests, gram "jelly" strength tests, sulfur tests, solids tests, and foaming tests.
Today we will dive into solids and foaming tests...
Testing Solids
Percent solids of the glue is used to determine the solids content of a melted protein glue cake. The value used is the percent, by weight, of the sucrose solids (Brix). The solids content effects several characteristics of the glue. Solids content impacts the drying time, moisture effects on the substrates and shrinking. Solids is also a measure of how much water is in the glue.
A typical value is 40%-60%, but solids can be as low as 5% or as high as 90% in synthetic glues.
We measure the solid content of our glues using an Eclipse 45-05 hand held refractometer manufactured by Bellingham & Stanley. Learn more about refractometers here.
Foam Testing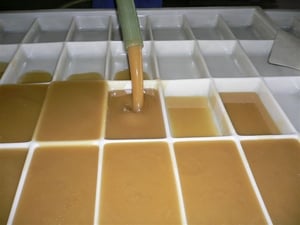 Knowing the degree to which a glue foams is vital to the glue's performance.
When protein glue is poured into the cake mold, foaming occurs. The foam then rises to the surface of the cake, leaving the majority of the cake foam free. A small amount of foam at the surface is normal. Excess foaming causes air pockets to form within the glue. This can negatively affect the glues performance.
Excess foam, not only disrupts the uniformity of the glue, it can reduce the glues bonding capabilities and reduce the strength of the bond itself. Foaming can be controlled by using specific additives. Our technical team measures the amount of foaming in its glues and through its formulation can reduce the foaming to an acceptable amount.
Questions about our lab testing? Contact our technical team.