Each year, we at L.D. Davis speak with hundreds of businesses and manufacturers in regards to their protein glue needs. Because so many of them are aware of our ninety year history on all things regarding protein glue, they sometimes ask us who are some of the other protein glue suppliers in the U.S.?
Never one to shy away from being honest with prospects and customers with respect to competition, here is a list of some of the U.S. suppliers that have a solid history in protein glue:
Olympic Adhesives: Founded in 1975, Olympic Adhesives specializes in environmentally-safe, natural, protein-based adhesives. Their corporate headquarters is in Massachusetts. Some of the industries that Olympic Adhesives serves are: furniture, abrasives, buffing/polishing, book binding, luggage/leather goods, matches, packaging, stationary, and textiles.
Wisdom Adhesives: Wisdom Adhesives is a fifth-generation family owned adhesive company based in Illinois. They offer a wide range of adhesive options from protein to hot melt. They supply adhesives for the packaging, paper converting, graphic arts, bookbinding, product assembly, textile and general purpose industries.
Northern Adhesives: Northern Adhesives, based in New York, has been supplying water-based adhesives for over 65 years. The types of businesses they serve include: packaging, dye-cutting, mounting and laminating.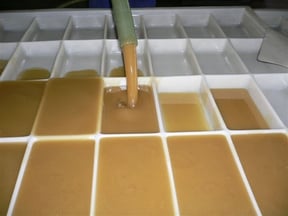 So there are 3 companies to consider if you're shopping around for protein glue suppliers in the U.S.. As always, the key to a great protein glue is quality.