We get this question from prospects and customers often: what kind of glue can come in contact with food?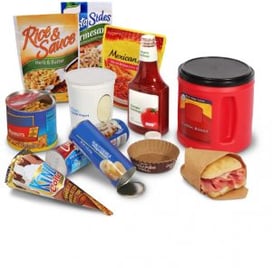 Naturally, when it comes to food packaging, safety standards are very important.
The glue used for food packaging is no different - and there are many details to consider when picking the right one.
+ Do you want a water-based or hot melt glue?
+ What kind of equipment are you running the glue on?
+ Does the glue need to be freezer grade?
+ One of the most important details to consider is whether the glue will be in direct contact with the food.
Our protein and liquid water based glues are FDA approved for indirect food contact under CFR Part 175.105. We distribute hot melt glues that are FDA approved for direct and indirect food contact. Most of the glues we distribute are for indirect contact with dry and aqueous foods and are covered under 175.015 as well.
Pressure sensitive adhesives used in direct food contact applications need to pass 175.125 and we distribute glues that meet this FDA requirement. Learn more about FDA food ingredient and packaging lingo here.
Whether your packaging glue needs are for:
+ Case And Carton Sealing
+ Seal Tray Forming
+ Folding Carton
+ Labeling
+ Filter
We have a versatile line to cover a variety of Food and Beverage applications.
Picture Source:
International Converter