We sometimes get inquiries from prospects and customers wondering how they can properly prep their protein glue for use on Potdevin equipment. If you own a Potdevin machine, we have a few helpful tips for you.
Potdevin machines can be tricky sometimes, depending on how old the equipment is. For this reason, the glue preparation may seem a little more daunting than it has to. We have you covered!
Our first recommendation is to invest in a refractometer.
This simple tool (shown in the photo below) will help you to easily measure the solids in your glue. This is a very important part of "glue prep". If your glue solid are too high, or too low, you could run into issues on your equipment or with the glues performance.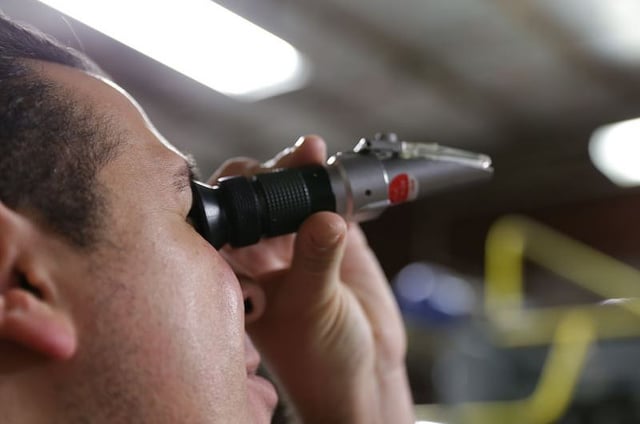 Another extremely useful tool to keep close by is a pyrometer, or thermometer.
Our Technical team has encountered old equipment with a temperature dial that does not always reflect the correct temperature. Proper temperature is a crucial piece of the puzzle when it comes to glue application.
It's a good idea to have a thermometer to make sure your glue temperatures are accurate. Make sure the thermometer will work for the temperature range you are working with (for protein glue this is usually 140-150 degrees F).
Bonus tip: Instead of adding cold water to your glue pot (when diluting to the proper solids), add hot water. This will ensure that adding the water won't drop the temperature too much.
---
Still having some trouble getting the glue "right"? Some Potdevin owners found it helpful to invest in a separate glue pre-melter. This will allow you to properly prepare the glue in the pre-melter before using it in the Potdevin.