One raw material that LD Davis uses in its animal glue products is pharmaceutical scrap gelatin. Before the 1970's, most gelatin used in animal glue, or protein adhesive, was extracted from the bones and hides of pigs and cattle. Today, a significant portion of the gelatin used in protein adhesives is from pharmaceutical and nutritional scrap gelatin, either in soft gel netting or hard capsule form.
Recycling Gelatin
The gelatin we use is what's left over in a sheet of gelatin after a soft gel capsule, like a Vitamin E capsule, has been manufactured. We also recycle scrap hard capsule gelatin. Both the hard cap and soft gel netting are ground and cleaned before use in our adhesive, which is non-toxic and biodegradable.
Reducing Gelatin Waste
LD Davis purchases this scrap material from pharmaceutical and nutritional companies, and then formulates many protein adhesive products that are widely used every day.
We are the largest purchaser of recycled pharmaceutical gelatin in the United States. We go through a lot of scrap gelatin. We help reduce pharmaceutical companies' waste stream by utilizing their waste gelatin, and they help us by providing us with the necessary materials we need to manufacture our gelatin adhesives. Everybody wins!
Gelatin and LD Davis Adhesives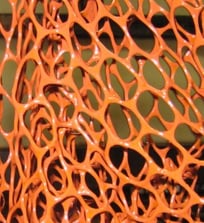 The technical gelatin we produce from the netting goes through a few steps before it is turned into our glue.
It is inspected for quality as part of L.D. Davis Advantage Number 11, which is our implemented 12-point quality control system for all incoming raw materials and outgoing finished products. In our lab, we mix in a special chemical that removes all color from the netting, which is usually colored with natural, water-soluble colors.
The coloring must be natural and water-soluble because this netting is what's left over after a pharmaceutical company produces gel caps that contain nutritional supplements such as Vitamin E. The netting is then melted down into a mixture from which we produce our gelatin-based adhesives.