As consumers become heavily focused on the importance of biodegradablilty and eco-friendliness, manufacturers need to start thinking "green" in all facets of the manufacturing process. Today's consumers, especially the Millennials and younger Gen Z bunch, place high importance on sustainability (Packaging Strategies). They are scouring store shelves for products that are made and packaged sustainably.
Sustainability, especially in packaging, is a hard subject to ignore. Check out how the packaging experts at L'Oreal are making the switch to sustainable packaging:
As you focus on sourcing sustainable raw materials, don't forget the glue. Gelatin protein glues are biodegradable, recyclable and repulpable - the perfect match for green packaging.
Geltain Protein-based Glues for Sustainable Packaging
L.D. Davis protein-based glues are completely hydropulpable by nature of their composition. They are based on gelatin protein which is derived from the hydrolysis of collagen. Collagen is a protein ingredient of animal hide, tissue and bone.
Protein glue is composed of polyamides of alpha-amino acids. The solubility of protein-based glues in water is due in large part to the fact that five of the major constituent amino acids present in glue possess high water solubility. Protein glues are insoluble in oils, waxes, organic solvents and absolute alcohol. They may be emulsified in water-oil or oil-water systems.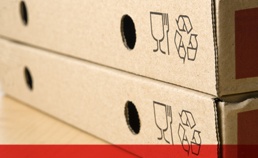 The various other raw materials used to compound our glues are from the sugar, starch, polyol and salt families. All of the ingredients used to modify the adhesives are water soluble and in most cases are non-edible grades intended for industrial use. We also utilize edible-grade raw materials, e.g. corn syrup (glucose), sodium chloride (table salt), glycerin USP grade, etc. when required.
None of the raw materials are listed by OSHA, RCRA, NTP, SARA Title III or any other hazardous ingredient listing.
Protein Glue Specifications and Technical Data
Appearance
Translucent amber to white color
Available Formats
Cake or dry
Features
Biodegradable, non-toxic, and eco-friendly. Signed to offer suitable tack and open time for a number of varying industries.
Uses
Laminating, rigid box, case and carton sealing, assembled products, book binding and more.
Operations Temperature
140-150

°

F
Odor
Neutral to fragrant by addition of re-odorant

Solids (%)

40-75% (for cake products)

100% (for dehydrated products)

Viscosity (CPS)
Varies depending on application. Can be produced with a range of 100 CPS to 35,000 CPS as measured by Brookfield Viscometer.
Shelf Life
Approximately 1 year. Must be kept in a cool, dry environment for optimum storage life.
Packaging

6 cakes per carton or 50 lb. bags for dry

Average carton weight: 62 lbs.

Pallet: 36 cartons per pallet