LD Davis is a distributor of fugitive glue, which is a form of hot melt glue.
LD Davis is a fugitive glue supplier in North America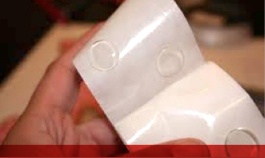 We manufacture our own line of eco-friendly animal glues and liquid glues. We distribute fugitive glue, hot melt adhesive, and PUR glues from reputable companies around the country.
This adhesive product is commonly known as credit card glue, or sometimes even "booger glue." It is often used in direct-mail campaigns, marketing applications, and any other product that requires that the glue be removable yet still forms a strong bond. You'll find fugitive glue attaching your new credit card to the letter it comes with.
Fugitive glue is a very unique and useful product, and there are also easy-to-use dispensers and applicators to make fugitive glue even more user-friendly.
Fugitive Glue Dispensers
Hand-held applicators are used similar to a label gun you might see in a supermarket.
Dots of glue for this applicator come in rolls that easily feed into the applicator. Many different tack-levels of fugitive glue are available.
Hand-held applicators are great for smaller-volume applications as each glue spot does need to be applied individually. Fugitive glue is available in dot form, strip, liquid, and hot melt form.
Other available applicators for fugitive glue for larger-scale and larger-volume use a foot pedal for increased speed and ease of use.
Fugitive Glue Facts
Fugitive glue is easy to use and convenient to work with. It is an innovative glue product that forms a strong bond while removing easily from the surface to which it was adhered with no damage to the product.
Fugitive glue should only be used once; it should not be reapplied after its removal from the initial surface.