Summertime is here. While many of us are looking forward to the warm weather, that extra heat and humidity can mean manufacturing challenges for some. You've probably noticed the consistency of your glue change during the warmer months if you're using protein glue. Protein glue is composed of gelatin, Epsom salts, sugars, and glycerin. The glue is all-natural and biodegradable, so that means the raw materials can go through changes due to rising temperatures. If your manufacturing is starting to become a sticky mess, don't worry!

We have 6 helpful tips below to help you have a successful and productive summer with your glues.
Apply Less Glue

Sounds counter-productive, right? But yes, we're telling you to apply less glue. Protein glue sometimes takes longer to dry or set in the heat. A thinner layer of glue needs less time to dry, providing you with the proper adhesion you'd expect from your glue.

Try to Lower the Temperature of the Glue

Protein glue should be applied to substrates at a temperature of around 140-150℉ (60-65℃) in low humidity. If your adhesive is becoming too sticky, try dehumidifying the area or lowering the glue temperature to help it set faster

Close the Doors

Try to block as much outside humidity and heat as possible by closing the facility doors. Improving climate control in your facility will allow you to regulate your glue temperature better.

Slow Down Production

This tip goes hand in hand with #2. By slowing down your machinery, you provide a larger time window for the glue to set. It's better to consistently create products at an even pace than stop production to clean messes or dispose of subpar products.

Properly Store Substrates

All unglued substrates should be kept in a climate-controlled location at your facility until you're ready to use them. Better storage can help prevent your substrate from getting warped.

Keep the Fans Going

The cooler everything is kept in the production line, the better results you will have. If possible, use fans to keep your equipment cool. Fans can blow a constant stream of air over your machines and help regulate temperature and keep things running smoothly.
Summertime Protein Glue Tips Infographic
We've created a handy list for you to print out so you don't run into any sticky situations this summer.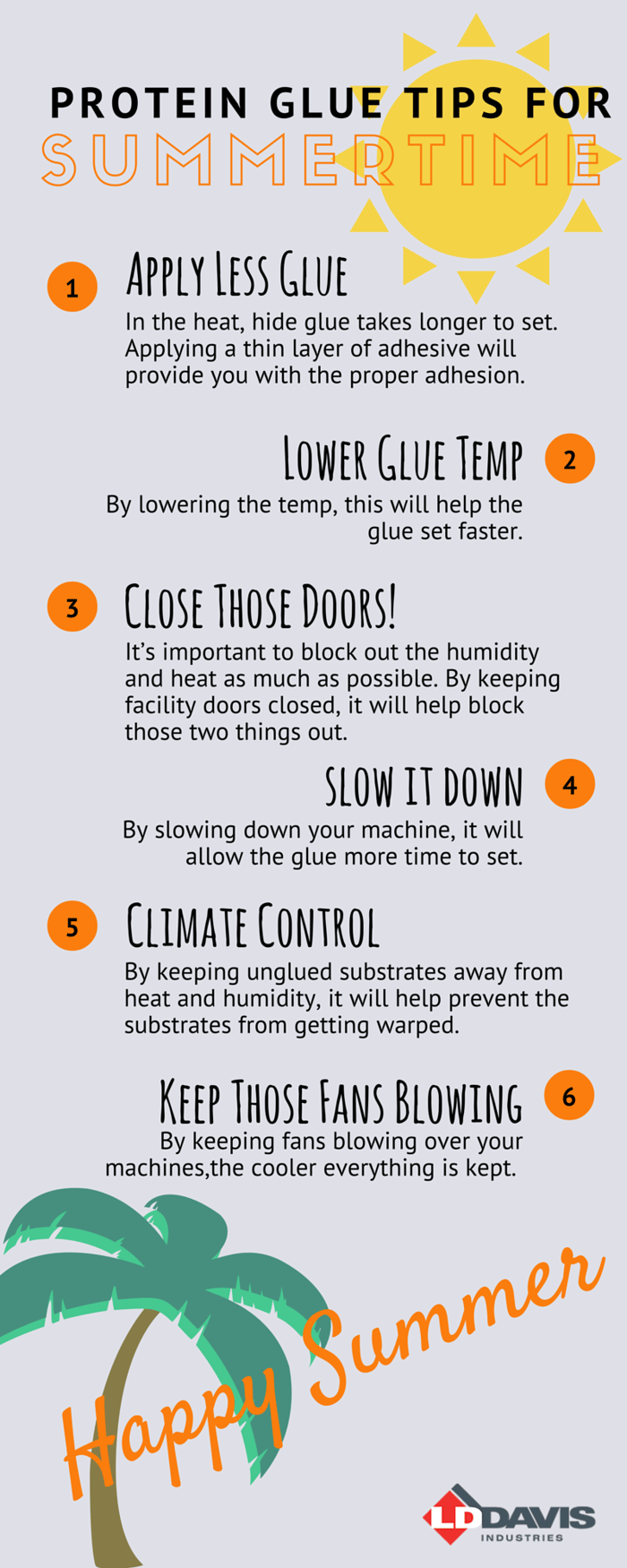 Troubleshooting Temperature Problems for Protein Glue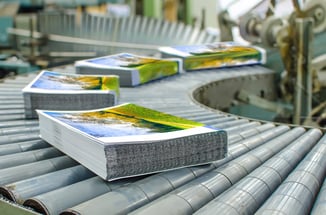 Every manufacturer does things a little differently. If following the tips above didn't do the trick, there are other solutions.

Maybe you aren't using the right kind of glue. LD Davis offers summer and winter formulations of protein glue. We also provide a Rapid Tack additive that has helped set adhesives faster in the bookbinding industry as well as in the packaging industry with rigid boxes.

If you're having trouble with your glue, our experts are here to help. We can talk you through challenges and help you improve your production. Get in touch with us.