July has hit us with full force and full summer temperatures.
Heat, Humidity and Hide Glue
Hide glue users that are feeling the heat can sometimes run into some glue issues during these hot months. Since hide glue, also known as protein adhesive or animal glue, is all-natural, the raw materials sometimes go through changes during hot and humid months. Hide glue can be sensitive to big changes in heat and humidity.
Don't fret; we have the answers you need. However, the biggest tip we have to give you is kind of a secret…
(Apply less hide glue during hot and humid summer months.)
What? We want you to use less of our hide glue products? Exactly.
Sometimes hide glue takes longer to dry/set during the summer, so if you apply a thinner layer of the glue, it will need less drying time and still provide you with the adhesion you've come to expect from LD Davis adhesive products.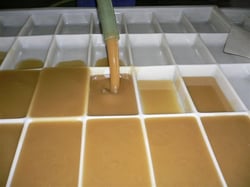 Other hide glue tips and tricks include:
• Control the heat and humidity in the area of glue application as much as possible.
• Run the adhesive at a slightly lower temperature
• Hide glue requires less dilution in hot weather, so add less water.
• Try a different LD Davis hide glue formulation; we offer "winter" and "summer" formulas of many of our adhesive products.
• Ask us for RapidTack, an additive to help solve summertime adhesive dilemmas.
• Call us! We'll talk you through troubleshooting.