We realize you have many options when it comes to choosing a glue partner. What sets LD Davis apart from the competition?
Of course we are fanatics about unmatched customer service, competitive pricing, fast shipping times, and top quality products. But, you probably hear that from a lot of folks. Yes, we agree those are all very important aspects of our business, but what really sets us apart?
Here are six ways LD Davis Glues & Gelatins is different than the competition.
Commitment to Eco-Friendly Adhesives and manufacturing
Now more than ever, manufacturers are considering the environment in all aspects of their businesses. Specifically, within the packaging industry, companies large and small are analyzing all of their raw materials to find ways to make eco-friendly improvements.
Clear Pharmaceutical Netting Used in Our Adhesive Manufacturing Process
Long before the use of eco-friendly raw materials was a hot topic, LD Davis was manufacturing plastic-free, biodegradable adhesives. Our primary product line, gelatin-based glues, are made primarily from a recycled raw material - pharmaceutical gelatin. Not only are these formulas environmentally friendly, but they have helped to eliminate a major waste stream.
The Benefits of Natural Eco-friendly Adhesives
Our line of gelatin-based glues and many of our water-based liquid glues are helping manufacturers meet their sustainability goals.
In addition to our product line, LD Davis has taken a number of steps in our manufacturing process to care for the environment.
COMPREHENSIVE Solutions For Rigid Box Industry
As one of the largest glue partners within the U.S. rigid box and bookbinding industries, our team is always brainstorming ways to better serve our customers.
Over the last few years, our product line has expanded into new, tangential business lines including rigid box stay tape, and used equipment. These brand extensions have allowed us to offer more comprehensive solutions to our customers.
LD Davis Adds Stay Tape to Product Line
In addition to expanding our product line, we have partnered with a number top industry suppliers to offer assistance on materials and equipment that we don't manufacture or sell in-house, including: short run bookbinding equipment (GP2 Technologies), and rigid box forms (Best Wood Forms).
Industry Experts that Can Offer Equipment & Adhesive Troubleshooting Assistance
Many of the members of the LD Davis team have worked within the industry for several decades. Whether they have worked specifically in adhesives, with adhesive application equipment, or in printing or packaging - each team member is a wealth of knowledge.
The LD Davis team leverages unmatched expertise to help customers tackle unique projects and achieve continued success in their businesses. As the best and brightest in the industry, we are able to offer personalized solutions and advice you can't find anywhere else.
Beyond our own four walls, LD Davis also has exclusive consultant partnerships with industry experts outside of our organization. These relationships help us to broaden our scope of capabilities, and keep a finger on the pulse of the industry.
Dr. Ken Kroeger, Professor, Chemist & Protein Glue Aficionado
Dr. Ken Kroeger researched the structure and function of proteins using X-ray crystallography at the University of Colorado and received his PhD in chemistry in 1996. He then worked at LD Davis as the head of Research and Development. For 15 years Dr. Kroeger used his knowledge of protein chemistry to formulate, innovate and develop new protein adhesive products for the graphic arts industry. He became one of the foremost authorities on the subjects of protein raw material sourcing and formulating with complementary raw material to enhance the functionality of environmentally friendly adhesives.
Dr. Kroeger amicably left LD Davis in 2011 to pursue his dream of teaching and doing research with college students. Dr. Kroeger works four miles down the road from our manufacturing facility as an Associate Professor of Physics and Chemistry at Wingate University and while there has done research in protein molecular dynamics, modelling of a drug-receptor complex, radio astronomy, quantifying components in teas and coffees, vitamin C degradation in orange juices, cation concentrations in perspiration, and recently working with distillers to analyze chemical changes during whiskey aging.
Throughout this research he has gained experience with high performance liquid chromatography, gas chromatography, mass spectrometry, and various computational techniques. He is in frequent contact with our technical team for new project ideas and opportunities.
Free substrate analysis Testing in our In-House Laboratory
Working on a new project? Using a new or unique substrate? Need a custom glue formula? The LD Davis Lab team has seen, tested, and formulated it all.
Our North Carolina manufacturing plant in equipped with a full service, on-site adhesive laboratory and technical team. Free testing services provided in our Lab includes:
+ Dyne Tests - These tests help determine surface energy of your substrates, and how well certain glues will bond to these substrates.
+ Bonding Tests - These glue draw down tests will compare the results of several adhesive formulas to help determine which will provide the best bond and performance for your specific project.
+ Heat & Humidity Tests - If your substrates will be exposed to high heat and humidity, our lab can recreate these conditions and test the glued substrate to see how it will perform under these extreme conditions.
+ Force Tests - These tests involve applying varying levels of force to bonded substrates to determine the strength of a glue bond.
+ Freezer Tests - If your finished product will be exposed to freezing temperatures, this test is for you. Our lab team can take your glued substrates and expose them to freezing temperatures to see how they were perform after a specified amount of time.
Free On-site Glue Audits and Training from our Technical Team
Troubleshooting issues? Have a new glue equipment operator? Need some help figuring our what glues work best for which projects?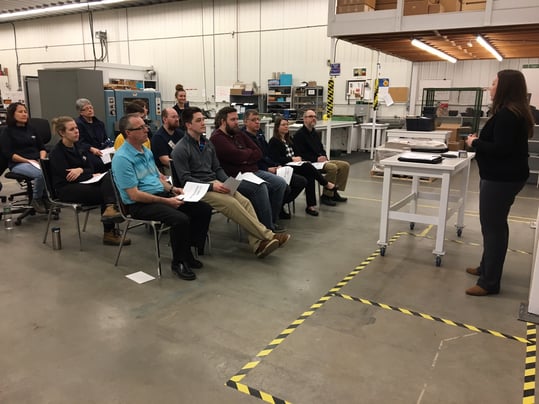 On-site training session with an LD Davis rigid box customers
At LD Davis, we make it a priority to help our customers run their business as efficiently, and profitably, as possible. To assist with that, our Technical team offers free glue audits to our customers. We recommend these audits on a regular basis (semi-annually or annually) to ensure that you are running your glue and gluing equipment at its fullest potential.
Our on-site glue audits and training have helped many of our customers become much more productive, which means cost savings for your team.
Insight Into Manufacturing Best-Practices
With nearly 400 hours each year spent visiting our customer's facilities to provide on-site training, our Technical Sales team is well-versed on manufacturing best practices. No matter the industry, we strive to provide insightful recommendations that will help your team manufacture as efficiently as possible.
---
When you work with LD Davis, you are getting much more than a glue partner. We offer countless free, personalized services that add value to your business, and help increase your profitability.
Contact our team of passionate glue experts today to learn more about our solutions and services.