It's August, and man is it hot.
Maybe you work in a manufacturing plant that is hit with extreme heat and humidity during the summer months. If so, there are some things you should keep in mind when it comes to running your glue in this weather.
During the summer months or in hotter climates, you may notice that your animal glue (protein glue, hide glue) performs a little differently than usual. This could be a result of high heat and humidity in your manufacturing plant.
Summer heat and humidity can cause your adhesive to set slower than usual.
The good news is that some small "tweaks" to the running parameters can help get your glue running optimally - even in the blistering summer heat.
Our Technical Sales Manager, Bill McCalla, has a few tips for his customers that run into this issue this time of year:
Ideally, we would like to see plant humidity levels around 50%. Of course, this isn't always possible. For instance, I visited a customer just last week, and their humidity levels were just over 70%. At those humidity levels, my recommendation is to slightly raise the glue solids, and slightly lower the glue temperature. Doing these two things will help offset plant heat and humidity and get the glue running as it's meant to.

It's always a good idea to store any board and cover stock in a climate controlled area. This will help keep moisture out of the substrates. If heat and humidity are experienced pretty regularly, it may be worthwhile to invest in a dehumidifier that can channel the humidity out of the building.
Wondering how to measure glue solids? One of the most efficient and accurate methods for checking brix solids of LD Davis animal glue is to use a refractometer.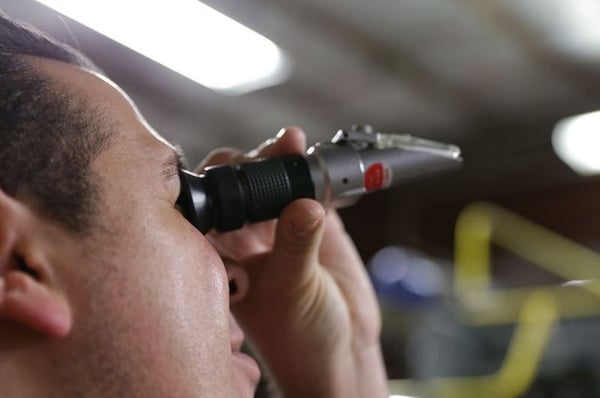 Another helpful tool to have in your plant is a temperature and humidity gauge. This inexpensive tool will help your team keep a closer eye on plant conditions. Here is one, but there are a bunch on the market!
---
As always, if you are experiencing any troubleshooting issues with your glues, the LD Davis team is happy to assist. Contact us with any technical questions you may have!