Testing how your operation runs before going into full production is critical for success. There's no sense in going full steam ahead, especially if you've recently changed something. This is sound advice for any manufacturer, and in this article, we're focusing on the benefits of running a glue trial for rigid box and packaging producers.
If you've recently updated or changed your adhesive equipment, substrate, or glue formula, doing a trial run first is important. Even if you've worked with gelatin glue for years, every variation of glue is a little different. Each has a unique makeup, kind of like a fingerprint, and has a specific formula with varying specifications, including viscosity, color, pH, tackiness, open time, etc.
What is a Glue Trial?
A glue trial is when an adhesive expert comes to your facility and tests how your production is running, focusing specifically on how the glue is performing with your equipment, substrate, and environment.
How to Prepare for a Glue Trial
Before your glue trial, there are a few things you will want to have set up at your facility.
First, it's always best to start with a clean glue pot with fresh glue. This will ensure that the glue formula runs smoothly and without contamination from any old glue. If you need some tips on cleaning your glue pot, check this out.
Next, your gelatin glue and substrates should be staged in a climate-controlled area near the equipment about 24 hours before the trial. This will ensure you are not adding cold glue cakes into the pre-melter, and that there is no risk of substrate warping.
What Happens During a Glue Trial?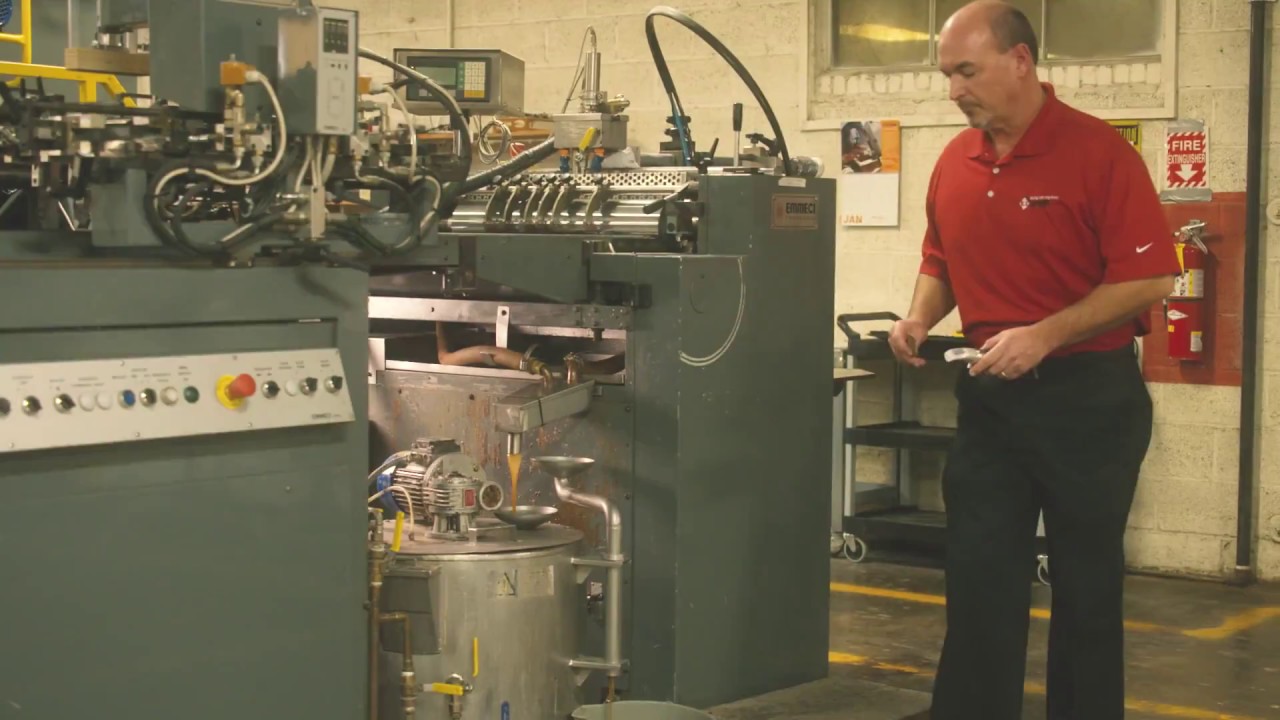 An LD Davis technical representative will arrive on-site to perform tests on the melted glue to make sure it's set up to run at the recommended settings. While performing these tests, they will train your team members so they are able to perform the same tests on their own in the future (we're always happy to help whenever needed).
Tests Included in Glue Trial
Glue Temperature Setting Check - Equipment settings can be a little tricky. A glue expert will offer guidance on what temperature range will provide the best glue performance. Running glues at the appropriate temperature will majorly affect how the glue will perform with your substrates. If the glue is too cold, it could set too quickly. If it is too hot, it could burn the glue.

Glue Solids Measurement - Each glue has a different recommended viscosity. A glue expert will have the tools necessary, like a refractometer, to check the viscosity of the glue and make changes as needed. If the viscosity levels are not set properly, you could run into issues with dirty equipment or pop-opens.
Glue Film Thickness Review - Believe it or not, our glue experts have gone into facilities and told them that they were applying too much glue. By measuring the glue film thickness with a

mil depth gauge

,

we can make recommendations on how you could save money by applying less glue. Applying too much glue could also cause issues with your equipment. Make sure you're not applying more than you have to.
Team Adhesive Training
After the glue is set up at the optimal running parameters, you can start running the glue. Our technical representative will stay with your team as you begin to run the glue on your substrates. They will assist in adjusting the equipment speeds as needed depending on the substrate size.
Keep in mind, not all pieces of equipment are identical to one another. There may be scenarios when one machine's optimal temperature and viscosity can be slightly different from another. This is perfectly normal! Our technical representative will help you note what settings work best on which machine.
Depending on how many pieces of equipment you use, a glue trial can be anywhere from a couple of hours to a few days long. Be prepared to learn a lot!
What to Expect After the Glue Trial
After the glue trial, your team should be equipped with all the information needed to run their gelatin glue properly. Of course, there may be times you hit a snag with a new job or new substrates.
Always feel free to contact our team to assist with any glue issues you may have! You can always set up a glue trial with us.